One Heart and One Soul: Stories from our Monastic Home
"And so we are going to establish a school for the service of the Lord...For as we advance in the religious life and in faith, our hearts expand and we run the way of God's commandments with unspeakable sweetness of love." Rule of Benedict, Prologue 45-49
Greetings,
Each day of National Catholic Sisters Week, we will be sharing the story of one our Jubiliarian Sisters, those celebrating significant anniversaries in religious life!  Today, we honor our final Golden Jubilarian as we remember her  50 years of service to Christ, Church, and Community…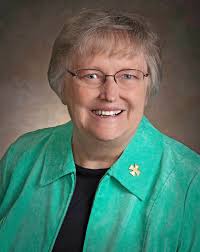 Our Sister Marietta grew up in Salem, SD, and is the middle child of seven. She attended St. Mary's Grade and High School, Immaculate Conception Academy in Dubuque, IA, and Mount Marty College in Yankton, SD. She entered Sacred Heart Monastery in August of 1964, made first monastic profession on June 29, 1966, and perpetual profession in November 25, 1972.
Sister Marietta's ministries have included teaching grade school and being a Religious Education Director. She later returned to the monastery to be Vocation Director. She continues to serve the monastery in various ways, including serving on the Mount Marty College Board, being Liturgical Director, and guiding Sisters in formation.
She writes, "The possibility of being a Sister stood in front of me every day as I was taught by the Bernadines and later the Yankton Benedictines. Prayer for vocations was among our family prayers. So it was with a great deal of support that I entered Sacred Heart Monastery. Often we were invited by our teachers to consider religious life, and S. Rose invited me to Sacred Heart Monastery when I was completing high school at St. Mary's in Salem. Her belief in me enabled me to 'give it a try.' When I entered, I did not know much about the differences in religious communities but found the way of Benedict to be a wonderful fit for me; it provided strong community support for prayer, work, and growth personally and spiritually. Celebrating 50 years has called me to pause and give thanks for God's presence in my life, especially in my Benedictine Sisters who have provided stability on the journey, encouragement in the challenges, and role models to follow. Life lived together has been God's greatest gift to me and enables me to reach out to others in many ways unrealized when I first knocked at the door. It is with a heart full of joy and gratitude to God, my Sisters, my family, and those with whom I have ministered that I celebrate this year of Jubilee." (Yankton Benedictines, Spring 2016)

Join us in praying for Catholic Sisters and Nuns who continue to seek God's Will and serve God's people throughout our nation.  Pray also for women who continue to discern God's will in their lives.
Loving God, by your grace,
Catholic Sisters throughout the world continue to respond to Your Baptismal invitation
to live lives dedicated to prayer and loving service.
Enkindle in their hearts a renewed desire to be zealous servants of the Gospel
and continuing signs of Your presence in our world.
Preserve and strengthen in them the passion and the vision
to welcome and to serve all Your people without hesitation or pause.
As they strive to live the mission of their respective congregations,
empower them to do so with courageous simplicity,
consecrated celibacy, and committed obedience to Your will.
We ask this in union with Jesus the Christ,
who showed these dedicated women the way to living in union with You.  Amen.
~Mary Rose Romeo, SSJ
Blessings to you,

SHM Volunteer Program | Join us in ministry!
Come and explore our incredible setting as a Resident Volunteer!
Learn More
Vocations– Join us!
Find out what it takes to be ONE HEART in loving Jesus, your Sisters, and the world.
Learn More
Monastic Horarium
Our weekday schedule at the Monastery.
7:30 AM ~ Breakfast
* Ministry and Service
12:00 PM ~ Lunch
12:45 PM ~ Noon Praise
* Ministry and Service
5:15 PM ~ Vespers in Peace Chapel
5:45 PM ~ Supper Evening
* Recreation and Compline
Archives
Eucharistic Love
Pope Francis said, "The Eucharist affects the way we see others. In his life, Christ manifested his love by being with people, and by sharing their desires and problems. So, too, the Eucharist brings us together with others–young and old, poor and affluent, neighbors and visitors. The Eucharist calls us to see all of them as our brothers and sisters, and to see in them the face of Christ." ~ February 14, 2014 General Audience.
God Bless You for Visiting!
Yankton Benedictine Sisters blog