Greetings,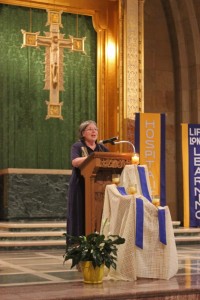 AWARENESS OF GOD
When I was young I had, like many other children, imaginary friends. Along the way those characters disappeared to be replaced by my guardian angel. When I started school – Catholic school, I learned my "religion" from the Baltimore Catechism (something only your grandparents might remember). We learned the truths of our faith in a question-answer format.  One of the hundreds of answers I memorized was to the question "Where is God?" The answer?  "God is everywhere." Hey, I thought why talk to a guardian angel when God is everywhere?  Surely God is with me so why not talk to Him. So, in my very early elementary years I started talking to Jesus, as if he were sitting in my room like one of my friends.
My belief in and understanding of God has matured throughout the years. But, the fact remains that "our whole life take place in the presence of God." (Anselm Grün) We deal with God in everything we do: in the moments of personal or communal prayer, as well as in all the nitty-gritty daily tasks and challenges of our lives. God is our trusted friend. How can a pure spirit be a trusted friend? Because He sent His Son Jesus to help; and in sending Jesus we have been commissioned, each of us, to be a friend for others, to be His presence in this world.  
While I hear God speaking to me in words of Scripture, I must also be aware of the holy presence when a sister admonishes me to stop complaining, or another encourages me when I'm discouraged. It is important to also see the holy presence of God in creation, like a beautiful sunset over the river.  The first word in the Benedictine Rule is LISTEN – Listen with the ear of your heart. I strongly encourage each of you students to listen and to find the presence of God in your life here on this campus.  
1. Listen to God in words from Scripture. Mom and dad won't be here to nag you or drag you to church; don't give up on your practices of faith; all those rituals help you in your relationship with God as a friend.
2. See God in your new friends and classmates; be the face and hands of God for each other, supporting each other. There will certainly be those who will be shy or homesick or afraid of the new academic world. Encourage and befriend them. If you see someone trying to go off, making unhealthy choices befriend them.
3. Find God in your teachers and the staff, as well as we sisters here at Mount Marty College. Don't complain about that teacher who isn't making sense. Go and ask him or her to help you understand the mysteries set before you. They want to help you; that's part of their mission.
4. While you spend days and many nights in classes and other activities of the campus (not to mention some work to pay the bills) don't forget to put all of that aside once in a while (along with all your electronics) and take a walk with friends or by yourself; spend time in the creation that God gave us to enjoy. In the winter go to the bluff or out to the lake and watch the eagles. Learn what it means to fly on the wings of God's strength.
5. Not sure about all this, but know you can use all the prayers you can get? Sign up for the prayer partner program with the Sisters of Sacred Heart Monastery.
I promise you, if you are attentive to the daily in your life you have already begun to find the divine.
Father Valerian blessed the Freshmen, their parents, and the gathered faculty after the presentation of the Core Values: Awareness of God, Hospitality, Life Long Learning, and Community.
Join us in praying for this new class and for all the students of Mount Marty College.