Greetings,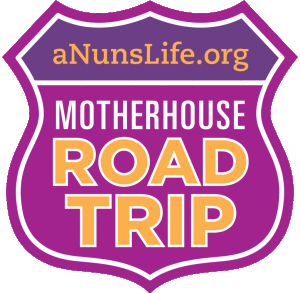 Sr. Julie of "A Nun's Life" had asked, "We were looking at some of the core values you hold as Yankton Benedictines which included: learning the daily arts of forgiveness and peacemaking. I'd love to hear you reflect on that in the context of this family, the community, and how you live that out."
I reflected mostly on how self-awareness can impact the depth of communication and multi-generational living, and the movement from thinking as the individual to that of community.  While they were okay ponderings, I didn't mention Benedict's Rule or our liturgical life.
What I wish I would have said…
Through his Rule, Saint Benedict calls us to a life of forgiveness that leads a peace.
"Let the Prioress understand also what a difficult and arduous task she has undertaken: ruling souls and adapting herself to a variety of characters. One she must coax, another scold, another persuade, according to each one's character and understanding" (RB 2: 31).
The Prioress has an essential role in supporting our life of forgiveness and peace.  She calls us to serve each other and challenges us to live each day in the presence of Christ. While the line from the Rule about coaxing, scolding, and persuading might seem harsh, Benedict's point is the superior is to reach out in every way possible to bring the sisters to a life of greater forgiveness and peace.
"You way of acting should be different from the world's way; the love of Christ must come before all else. You are not to act in anger or nurse a grudge. Rid your heart of all deceit. Never give a hollow greeting of peace or turn away when someone needs your love" (RB 4: 20-26).
Chapter four of the Rule of Benedict is titled "The Tools of Good Works" and reads as a long list of recommended and prohibited behaviors beginning with the Ten Commandments.  Huddled in the midst of all these lines of good works is a call to love as Christ has loved us. These practical recommendations guide our daily lives as we inevitably rub elbows with our sisters in the disagreements, hurt feelings, and difficult situations of every day life.  However, this does not allow the sisters to ignore another sister's need for peace or love!  Beyond this everyday call to live Christ's love and forgiveness, we celebrate this forgiveness liturgically on Good Friday.  We gather that evening for a prayer of Culpa, a prayer of our faults.  After offering the Psalms and a Gospel reading, the Prioress reads a reflection on our communal life, faults, and forgiveness.  The prayer continues with writing down our main fault–sin against community, asking forgiveness for the sin, offering forgiveness to those who have sinned against us, and letting go of the fault by placing them in the prioresses basket.  Finally, we conclude the prayer with The Lord's Prayer, and as we process out in silence, we take another sister's paper to pray for her as she seeks to "rid her heart of all deceit".
The Celebration of Lauds on Ordinary Days: "Assuredly, the celebration of Lauds and Vespers must never pass by without the superior's reciting the entire Lord's Prayer at the end for all to hear, because thorns of contention are likely to spring up. Thus warned by the pledge they make to one another in the very words of this prayer: Forgive as we forgive, they may cleanse themselves of this kind of vice. At other celebrations, only the final part of the Lord's Prayer is said aloud, that all may reply: But deliver us from evil (RB 13: 12-14).
Every morning, noon, evening, and night, we close our Liturgy of the Hours with the Lord's Prayer.  The prioress begins the prayer with an invitation to share in this life of Christ.
The Abbot's Concern for the Excommunicated:  "Therefore, the Abbot ought to…send in senpectae, that is, mature and wise brothers who, under the cloak of secrecy, may support the wavering brother, urge him to be humble as a way of making satisfaction, and console him lest he be overwhelmed by excessive sorrow. Rather, as the Apostle also says: let love for him be reaffirmed, and let all pray for him (RB 27: 2-4).
In Benedict's time, the excommunicated were those monks who had gone against the Rule and the life of the community.  Today, we still struggle to uphold the call of Benedict's Rule.  We may not have 'official' senpectae in our monastery today, however, sisters are encouraged to seek out a spiritual director or wise elder to whom they can turn for advice during difficult struggles in their lives.  Key to Benedict's call to forgiveness and peace in this chapter is the reminder that we should continue to love our sisters who may be struggling and keep them close to our hearts in prayer.
The Good Zeal of Monks: "…so there is a good zeal which separates from vices and leads to God and to life everlasting. This zeal, therefore, the sisters should practice with the most fervent love. Thus they should anticipate one another in honor; most patiently endure one another's infirmities, whether of body or of character; vie in paying obedience one to another. No one following what she considers useful for herself, but rather what benefits another; tender the charity of sisterhood chastely; fear God in love; love their Abbess with a sincere and humble charity; prefer nothing whatever to Christ. And may He bring us all together to life everlasting!" (RB 72: 2-12).
Chapter 72 of the Rule describes the highest living of our Benedictine life of peace and forgiveness…love.  When we can live out our love of God through love for our sisters and our prioress we are truly living as Benedict called us.  This life of love, epitomized by our forgiveness and peace, binds us together as community, and together we joyously seek God and life everlasting!
Blessings to you,