Greetings,
We joyfully announce the election of Sister Maribeth Wentzlaff as our fourteenth Prioress of Sacred Heart Monastery.
Join us in praying for God's blessing and the guidance of the Spirit as Sr. Maribeth prepares "to hold the place of Christ in the monastery" (Rule of Benedict 2).
Sr. Maribeth will be canonically installed as Prioress of Sacred Heart Monastery as a part of our Monastic Chapter at the beginning of June.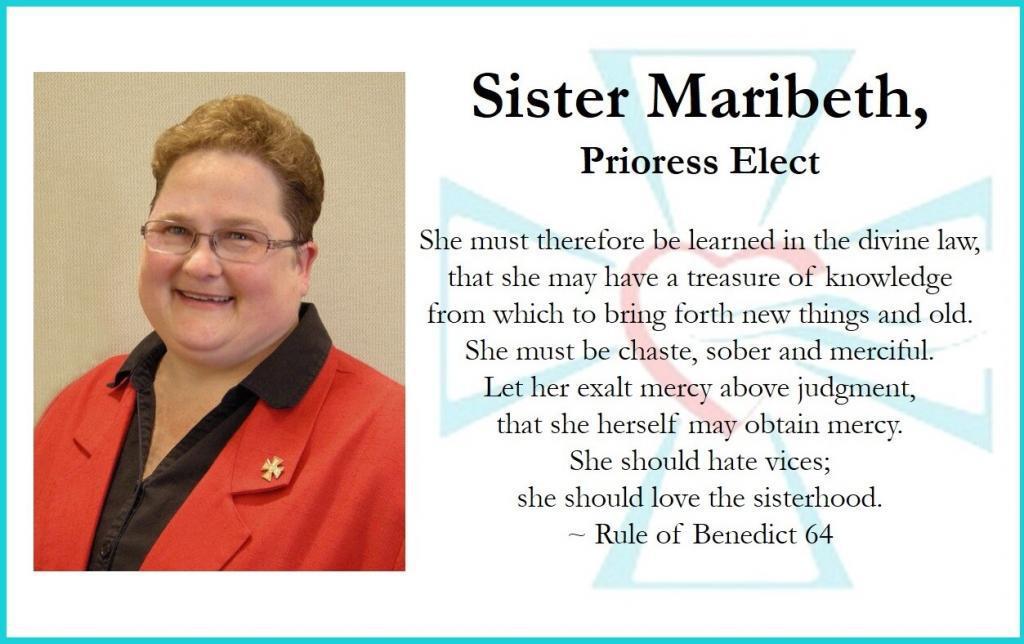 We spent four days in prayerful discernment during our Chapter of Election. It was an amazing experience to consider all the sisters' gifts and talents, and then reflect on how those could be shared as the prioress of our community. All throughout the prayer and discussion and prayer and balloting and prayer and more voting, there was a great trust in the guidance of the Holy Spirit (for which we prayed at every celebration of our Liturgy of the Hours). The culmination of these days was our 'canonical' election which is the decisive balloting for prioress in which our sister Maribeth was chosen as Prioress of Sacred Heart Monastery.
Following the election were the two tender parts of our community tradition. Each sister approached Sr. Maribeth and placed our hands in hers or hugged her as we offered our support. There were few tears in our eyes as all our members from elder to novice came up to her and offered their prayers with great love in their voices. The agape was the final part of our tradition of election. The sisters celebrated in the Chapter room with Sr. Baker's fresh bread in one hand, a bit of wine in the other, and greeted each other with hope, joy, and faith-filled anticipation for our future. It was beautiful to listen to the blessed sound of laughter fill the room as the monastery bells pealed our joy, announcing the election to the whole Yankton community.
Of her election, S. Maribeth says, "The election process is a very sacred time for a monastic community.  It is a truly a blessing to be called forth by my sisters of Sacred Heart Monastery and the Holy Spirit, to serve my community in this ministry.  I am humbled by the affirmation of my sisters, and with their love and support, I feel empowered to journey with them into an exciting and joy-filled future."
Blessings,
Return to "One Heart and One Soul"