Greetings,
As the pandemic spread to the United States, to the coasts, and crept closer to South Dakota and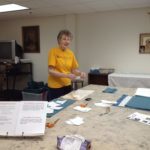 our own little city, our monastery followed the directive to close our doors in order to protect our most fragile sisters in our community.  It was a difficult decision.  One of our core values is hospitality; this is taken from Saint Benedict's Rule that reflects the importance of hospitality with chapters teaching monks and sisters to care for guests, the sick, pilgrims, the elderly, the young, the new members, returning members, and more.  It was with great sorrow that we closed our parlors and chapel to guests, family, and friends.  A few weeks later, a demand began to grow for cloth masks not only to cover the specialized masks of health care workers but to also care for and protect each other.  This call to serve fulfills our Benedictine call to hospitality as well as several of Benedict's teachings on the living the "Tools for Good Works" from chapter 4 of his Rule.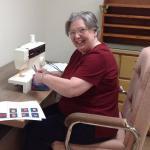 1. In the first place, to love the Lord God with the whole heart, the whole soul, the whole strength.  2. Then, one's neighbor as oneself.  14. To relieve the poor.  15. To clothe the naked. 16. To visit the sick. 26. Not to forsake charity. 62. To fulfill God's commandments daily in one's deeds.  78. Now the workshop in which we shall diligently execute all these tasks is the enclosure of the monastery and stability in the community.
Sister Jeanne posted a note inviting the sisters to a "sewing circle" to respond to the needs of Avera Sacred Heart, our local hospital.  They began with producing 25 Olson masks to protect the specialized masks at the hospital, then they refocused their efforts to produce 60 masks for our own employees at the Monastery, and some for the sisters who need to go out.
Sisters Jeanne, Patricia Ann, and Penny developed a schedule and list of jobs needed; and the sisters quickly filled the volunteer schedule, taking on roles such as washing and ironing material, cutting the masks, sewing, and even organizing the masks for distribution.  So many are the volunteers that (sadly) some sisters were too late to find a time/job space on the list!  The sisters are working hard–and building community through service and prayer.  Through this "sewing circle" our sisters are able to not only live hospitality for others, but also live our mission of serving God's people in a new way. In a difficult time, this has been a wonderful way to live our Benedictine tradition, the Church's call to almsgiving and prayer, and the lived focus to our prayer for those in need.  It's also a concrete way we can contribute something needed by our hospitals and care centers during this time pandemic as it expands in our "backyard."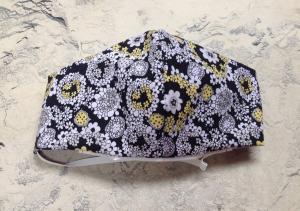 Are you seeking to serve through sewing in your own backyard?
To learn how you can make cloth masks, click here. 
If you would like to donate masks, they can be dropped off here:
Avera Human Performance Center: 6800 S. Louise Ave., from 8 a.m. to 4 p.m. weekdays.
Avera Home Medical Equipment:  2400 S. Minnesota Ave., from 8:30 a.m. to 5:30 p.m. weekdays.
Or you can email foundation@avera.org to coordinate a drop-off of masks.
Blessings to you,
Return to "One Heart and One Soul"