What Is A Benedictine Vocation Like?
What Is It Like Living A Benedictine Vocation?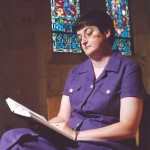 Based on the Rule of Benedict, a normal day in the life of a Yankton Benedictine includes several essentials. These essentials are communal and individual prayer, shared meals, work in a particular ministry within or outside of the monastery, and building community relationships. In the morning, the sisters gather for communal prayer called Liturgy of the Hours and Eucharist; they also come together for prayer at midday and in the evening. In addition, each sister spends quiet time daily in sacred reading called lectio divina, which includes study, reflection, and prayer, primarily with Scripture.
Pray and Work
Depending on her particular ministry, a sister might work within the monastery or at a school, hospital, parish, office, or other site. In the evening, sisters spend some time, usually after the evening meal, with their living group sharing the day's activities, perhaps playing cards or other games, taking a walk together, or occasionally attending a lecture, play or concert at the monastery-sponsored university next door.
Within the monastery, which houses approximately 75 sisters, Yankton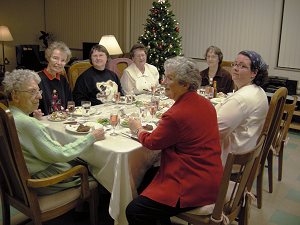 Benedictines live in small living groups. This helps to create order to foster mutual relationships and strengthen community bonds.
Sister activities
The sisters share many activities that embrace the total monastery community: several living groups might share a meal and prayer, liturgy teams regularly plan total community liturgies together, or one or more a living groups might host a social event for the entire community. Occasionally, sisters at the monastery and those ministering elsewhere gather for community meetings, retreats, or presentations on theology, Scripture, or spirituality.
Enjoy the stories of our sisters at Meet Our Sisters.
Watch this video reflection on our prayer, community life, and service.
Read Sister Carol Jean's blog.
See what's happening at Sacred Heart Monastery's Facebook page
For more information contact :
S. Carmella Luke, Vocation Director
Sacred Heart Monastery
1005 West 8th Street
Yankton, SD 57078
BENEDICTINE VOCATION
Vocations — Join us!
Find out what it takes to be ONE HEART in loving Jesus, your Sisters, and the world.
Upcoming Discernment Retreat
[calendar id="10225″]