Greetings and Happy Feast!
Today, we gather as community to offer praise in the Liturgy of the Hours for the gift of Benedict's life, to celebrate with festive meals, and to share Benedict's joyful hospitality with those who serve with us at the monastery. Join the celebration or send us your requests and we shall keep you in prayer as we celebrate our founder's feast!
Last night, we began our celebration of the Solemnity of the Passing of Saint Benedict with first vespers, chanted Liturgy of the Hours on the eve of the feast.  Marking the solemnity of our celebration, we started with statio, a formal procession into chapel.
Thursday, July 11th:  
Lauds ~ 8:30 AM
Celebration of the Eucharist ~ 11:15 AM
Vespers ~ 5:15 PM
Our prayer and praise will focus on the commemoration of Saint Benedict's death as recorded by Saint Gregory the Great in "Book Two" of his Dialogues.
In the year that was to be his last, the man of God foretold the day of his holy death to a number of his disciples. In mentioning it to some who were with him in the monastery, he bound them to strict secrecy. Some others, however, who were stationed elsewhere he only informed of the special sign they would receive at the time of his death.

Six days before he died, he gave orders for his tomb to be opened. Almost immediately he was seized with a violent fever that rapidly wasted his remaining energy. Each day his condition grew worse until finally, on the sixth day, he had his disciples carry him into the chapel where he received the Body and Blood of our Lord to gain strength for his approaching end. Then, supporting his weakened body on the arms of his brethren, he stood with his hands raised to heaven and, as he prayed, breathed his last.

That day two monks, one of them at the monastery, the other some distance away, received the very same revelation.  They both saw a magnificent road covered with rich carpeting and glittering with thousands of lights. From his monastery it stretched eastward in a straight line until it reached up into heaven. And there in the brightness stood a man of majestic appearance, who asked them, "Do you know who passed this way?"

"No," they replied.

"This, he told them, is the road taken by blessed Benedict, the Lord's beloved, when he went to heaven."

Thus, while the brethren who were with Benedict witnessed his death, those who were absent knew about it through the sign he had promised them. His body was laid to rest in the Chapel of St. John the Baptist, which he had built to replace the altar of Apollo (chapter 37).
We will also welcome those who serve with us to share a meal with us.  It will be wonderful to see the refectory filled with our sisters, secretaries, maintenance folk, and all who help us in our daily living. Our Swiss-German monastery will celebrate with some of Benedict's Italian flair on this special day.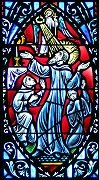 "…He was born in the province of Nursia [Italy], of honorable parentage, and brought up at Rome in the study of humanity.  As much as he saw many by reason of such learning fall to dissolute and a lewd life, he drew back his foot, which he had as it were now set forth into the world, lest, entering too far in acquaintance with it, he likewise might have fallen into that dangerous and godless gulf.

Therefore, giving over his book, and forsaking his father's house and wealth, with a resolute mind only to serve God, he sought for some place, where he might attain to the desire of his holy purpose.  In this way he departed [Rome] , instructed with learned ignorance, and furnished with unlearned wisdom" (Dialogues of Gregory the Great: Book Two: prologue).
Our Sisters will also join with employees and friends in celebrating the Feast of Saint Benedict.  The community welcomes our staff to the monastery refectory to join us in our noon and evening meals. More joyfully, our sisters from the Riverview living-group will host an afternoon break with root-beer floats!  In light of Benedict's call to "Let all guests who arrive be received like Christ, for He is going to say, 'I came as a guest, and you received Me'. And to all let due honor be shown, especially to the domestics of the faith and to pilgrims" (Rule of Benedict 53: 1-2), we welcome our employees from mechanic to nurse, to join us in celebrating Benedict, tell tales of the day, and even win a few door prizes.  Playfully fulfilling our Lauds Antiphon to celebrate, "Let us rejoice! Rejoice in the Lord for a feast in honor of Benedict, at whose triumph the angels rejoice and give praise to the Son of God." 
Blessings to you,