Greetings,
Pray for us during our time of retreat; we shall keep you in our prayers.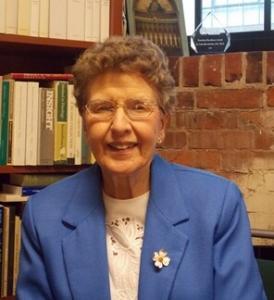 This week all the sisters of our community are gathering at the monastery for retreat.  The sister who coordinates our on-going formation arranges for a Sister or Priest to guide our retreat every year.  This summer Sister Carla Mae Streeter, OP of the Racine Dominicans will be our retreat director.  Her conferences will focus on "Seasons of the Soul and Seasons of My Life: a Fresh Look at the Paschal Mystery".  She is also a Professor Emerita of Systematic Theology at the Aquinas Institute of Theology, and we are excited to continue our celebration of Easter and the Paschal Mystery with her retreat.
The need for personal prayer and time of retreat is taken very seriously in our Benedictine life and tradition. Retreats are understood to be an essential part of our on-going formation as religious sisters.  The importance of taking time for a yearly retreat even has its own lines of explanation and clarification in the documents of our Federation and Monastery!
Federation of Saint Gertrude:
Listen I (General Norms of our Federation) recognizes that "Benedictine formation is a lifelong process of daily conversion within a dynamic, monastic faith community.  The entire community is responsible, under the direction of the prioress, for the ongoing formation of all sisters.  The monastery fulfills this responsibility when it provides the environment for the sisters to share their life together in faith and to continue their own daily effort toward growth in Christ" (G111).
Listen II (Specific Norms of our Federation) reminds the prioress that "the Monastery Norms specifies the ways a monastery provides for the continuing spiritual development of its sisters, such as community renewal, annual retreats, days of recollection and other opportunities" (S129).
Our Listen III or Monastery Norms (specific to our monastic guidance) take all this into account and very simply states a list of items to support this continuing formation including "annual retreats" (M111.g).  Simple…However, this yearly week of retreat is so important within our monastic life that it is even written into our contracts so we that may set at least a week aside for personal and private prayer, reflection, community, and Reconciliation.
Silence:
Retreat allows for a deepening of relationship with God in the silence of our day. This silence (including meals) will be broken only by Sister's conferences and our celebrations of community prayer and Eucharist.  However, the silence isn't still, it is nurtured through our personal prayer and is active in our sisters' personal reflection on the conferences.  All this additional time in prayer reminds us to follow Saint Benedict's injunction on the oratory:
"Let the oratory be what is is called, a place of prayer; and let nothing else be done there or kept there.  When the Work of God is ended, let all go out in perfect silence, and let reverence for God be observed, so that any sister who may wish to pray privately will not be hindered by another's misconduct.  And that other times also, if anyone should want to pray by herself, let her go in simply and pray, not in a loud voice but with tears and fervor of heart.  She who does not say her prayers in this way, therefore, shall not be permitted to remain in the oratory when the Work of God is ended, lest another be hindered, as we have said" (Rule of Benedict 52).
Retreat Week Prayer & Eucharist (June 2-8):
Lauds:  8:30AM
Eucharist:  8:50AM
Vespers:  5:15PM
Wednesday evening Communal Penance:  7:00PM
Saturday Lauds:  8:00AM
Blessings to you,