Explore your Vocation
What is a discernment retreat and why should I attend?
A discernment retreat is an opportunity to learn about a particular religious order while enjoying a peaceful getaway to recharge and connect with God. Discernment retreats with the Yankton Benedictines allow you to get a taste for monastic life while offering opportunities for contemplative prayer and vocational direction.
You should consider a discernment retreat if you are:
Considering the religious life
Desiring to deepen your prayer life
Seeking guidance in your discernment.
The next retreat is TBD
To register and for more information contact S. Carmella Luke or call her office at 605.668.6092. New Retreat Brochure listed: Exploring Religious Life: Listening in Context. To learn more about future discernment retreats head over to the Upcoming Events page.
It was nice to take a break from the chaos life brings. The moments of silent reflection after a discussion were my favorite. I enjoyed being able to think about where I'm at with God without constantly having the typical distractions of "do I need to be somewhere right now?" or "did I forget to do something?"
This retreat provided an opportunity for me step back and see how God has been working in my life. My eyes were opened to the ways he shows his unending love, and I was able to see how I need to trust in God's plans for me with a childlike faith again.
Other discernment opportunities
Come and See: Could God be calling you to religious life? Have you ever been curious what sisters do all day? Have you ever just wanted to visit a place where sisters live? If any of these questions are ones you've asked yourself, consider coming for a Come and See Weekend or a Monastic Experience.On a Come and See weekend, you will have a chance to visit with sisters, join them in prayer, and in social activities. What to bring? Comfortable clothes and clothes appropriate for church.
Monastic Experience: 

A Monastic Experience is a little more in depth. It is usually a week long. During this time, a woman has a chance to join more deeply in the prayer and life of the monastery.  For the mornings, she can join in various works around the monastery. In the afternoons she has small classes on monastic life, prayer, and history of the monastery. In the evenings, she has a chance to visit with different sisters.

What to bring?

Comfortable clothes, some clothes to possibly work in the garden, and clothes appropriate for church.

Residential volunteer: Come join the Sisters' work by volunteering in the bakery, sacristy, gift shop, and more! Volunteers are provided with room and board and a stipend – read more here .
Now offering a new enewsletter Real Talk
As once discerners of our own vocations, we understand the desire and yearning for authentic community and resources — and if possible, a little less searching. So we brainstormed and created Real Talk. This newsletter is for YOU. The general topics will include a resource for enlightenment into the religious life in "Ask A Sister," tips and tricks from us in "Holy Leisure," and a section called "You asked, we answered."  We share our advice on various topics, as well as videos, calendar of events, and guest writers. Oh, and some beautiful quotes sprinkled throughout!
https://www.youtube.com/watch?v=t614N5m7yQA&t=2s
A Monastic Experience
In June 2014 Stacie, Piper and Megan spent a week with us doing a Monastic Experience. A Monastic Experience is an in-depth introduction to Benedictine spirituality and monastic living.  This way they come to know our prayer life, our Sisters and opportunities to share in some of the monastic work.  While here, they joined the Sisters in the Liturgy of the Hours and Holy Mass.  They had opportunities for discernment, various types of prayer such as Lectio Divina and Centering prayer, spiritual direction and the steps for entrance into the monastery.  In addition they joined the Sisters in various monastic ministries such as the bakery, the garden and care of our elderly Sisters. The evenings they shared in the various living groups of the Sisters.  It was a joy to have them and they will be back for occasional visits.
Picture below is of a high tea party on December 17, 2017. It was held in St. Joseph's Care Center with Sisters and their buddies. Pictured left to right, S. Theresa McGinn, Novice Theresa Lafferty, and S. Valerie Cheney.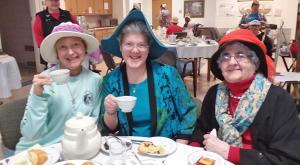 Contact S. Carmella Luke for more information. Or you may submit inquiries on the form on the Vocation home page.
Vocations — Join us!
Find out what it takes to be ONE HEART in loving Jesus, your Sisters, and the world.
SHM Volunteer Program | Join us in ministry!
Come and explore our incredible setting as a Resident Volunteer!