Greetings,
Whew! It has been a busy couple weeks here at the monastery.  We hosted over fifty sisters from 14 different communities for the Chapter Meetings (official business meetings) of the Federation of Saint Gertrude.  It took the help that was offered by all our sisters!  They volunteered to prepare gift bags, bedrooms, and meeting spaces.  Sisters woke up early and stayed up late to meet airplanes and guide our guests to their bedrooms.  They worked behind-the-scenes and filled in as extra dish-washers, kitchen aids, and room cleaners.  Sisters hosted socials each evening and gave up a day to offer tours of our Yankton area for the Sister Delegates' on their free-day. They also prepared additional Liturgy of the Hours (prayer) books and readied the pews in Chapel so that the Sister Delegates could join us for daily Prayer and Eucharist.  Most importantly, our sisters offered their prayer for the Sister Delegates and the success of their meetings.  All in all, the Federation Chapter ran like the Swiss Trains on which our earliest sisters once traveled.
The Benedictine Federation of Saint Gertrude was established by the Apostolic See with tentative approval on April 14, 1937, and definitive approval received on April 4, 1950.  The twelve member monasteries and two affiliated ecumenical communities trace their roots to Benedictine abbeys of women from Eichstätt in Bavaria, and Maria Rickenbach, Sarnen, and Melchtal in Switzerland. Arriving in the mid-19th to the early 20th century, these communities came to American and began to serve the needs of the Church and the People of God.  While each member monastery remains autonomous, we share a common set of canonical documents, "Listen", which guide our monastic life.  The Federation of Saint Gertrude is a source of mutual support, service, collaboration, and dialogue to encourage the continuing growth and development of each member monastery.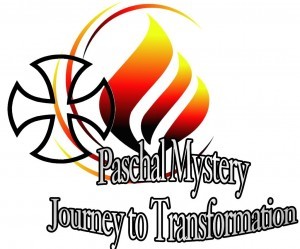 The Sister Delegates gathered around the theme "Paschal Mystery: Journey to Transformation".  They began with guest speakers: Sr. Nancy Schreck, OSF, and Fr. Dan Ward, OSB,  on the Paschal Mystery theme and about engaging transformation and change in our monastic communities.  Then the work of the Chapter began: studying by-laws, reviewing canon law, establishing new direction statements for the next three years, and electing a new president and five councilors to the Federation.  After much discussion, discernment, and prayer, the Federation Chapter elected our own Sister Jeanne Weber of Sacred Heart Monastery as President of the Federation and councilors from five other monasteries in the Federation: Sr. Barbara Lynn (Monastery Immaculate Conception), Sr. Mary (St. Benedict's Monastery), Sr. Mary Luke (Our Lady of Grace Monastery), Sr. Shawn (Mount St. Benedict Monastery), and Sr. Teresa (Monastery of St. Gertrude).
The week of Federation Chapter concluded with Vespers and the installation of Sister Jeanne as Federation President and Sisters as Federation Councilors.  Sister Joella's last act as President of the Federation was to commission Sister Jeanne to carry out the duties of the Office of President which includes a commitment to preserve the monastic way and Benedictine Rule within the monasteries and a resolve to safeguard each monastery's heritage and autonomy.  Then she blessed her: "We now ask our loving God to bless Sister Jeanne as she begins her term as President of the Federation of Saint Gertrude. Let us ask our God to sustain and guide her as she serves our Federation. May the gifts of the Spirit be poured out upon her so that she may in turn inflame with good zeal the hearts of all those she serves. We ask this through Christ our Lord."  Sister Jeanne's first act as Federation President was to call forth the five councilors elected by the delegates and to commission them to service to the Federation and ask God's blessing through the Spirit.
Please pray for Sr. Jeanne as she begins this service to the sisters of our Federation.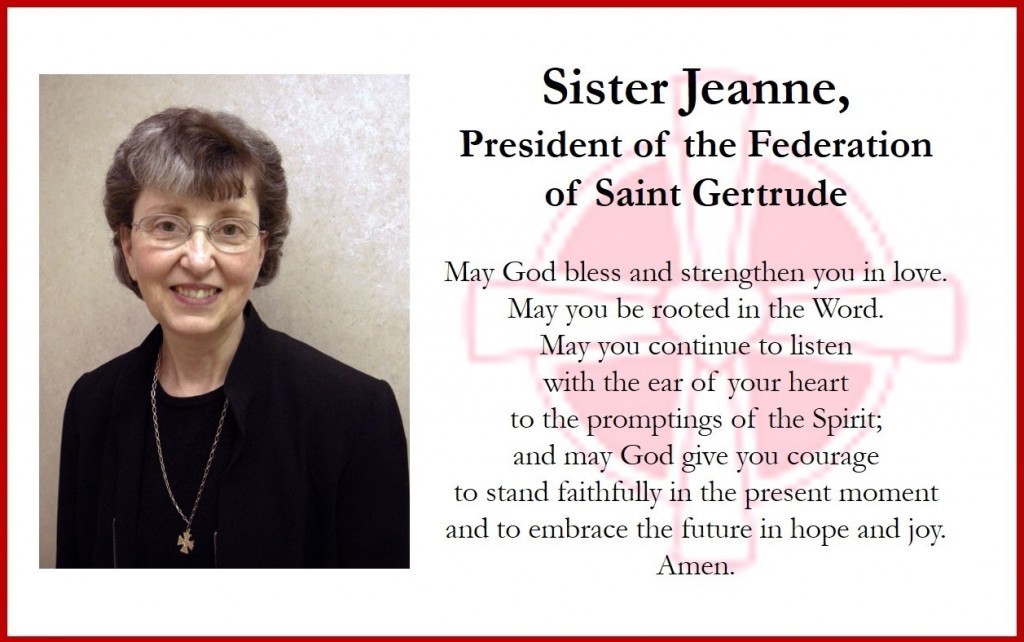 Blessings to you,