Golden Jubilarians ~ Sister Joyce
Greetings,
Sister Joyce was born to the youngest of four children and was raised on the family farm. She attended St Mary's Catholic School for all 12 years. The experience of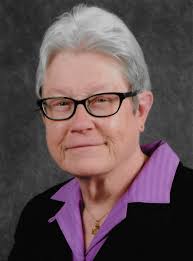 growing up in this faith community and background fostered her initial response to seek out her vocation to a religious community of Sisters. This process was fostered more with her contact with Sister Amica and the Benedictines of Sacred Heart Monastery in her high school years. Sister Joyce entered the monastery in August of 1964, made first monastic profession on June 29, 1966, and made perpetual monastic profession in June of 1970.
Sister Joyce has ministered mainly in Health Care for 40 years. She was trained to be an Occupational Therapist and then trained to be a hospital chaplain. She has ministered to the people of God in Ohio, Colorado, Nebraska and South Dakota. This hospital ministry has been very rewarding and fulfilling for her, and she knows it is of service to all people. She presently works as a Board Certified Chaplain at Good Samaritan Hospital in Kearney, NE.
Sister Joyce claims that her faith, religious community, and her family are the heart and soul of her life. She declares,"I would not be where I am today without my faith, family, and religious community." The 50 years have seemed to go quickly, but she is very grateful for all of the years and people she has met and the places to which she has traveled. She claims, "It is with great joy and blessings to be able to celebrate 50 years as a Yankton Benedictine from Sacred Heart Monastery."
Blessings to you,