Holiday Fair ~ Many Hands Make Light Work!
Greet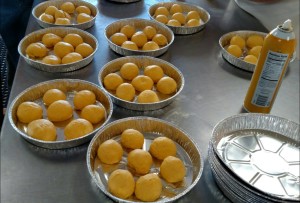 ings,
This morning the great ovens of the monastery bakery were heated in anticipation of a fresh fall treat.   Sisters from around the monastery and a volunteer monk gathered in the bakery to make squash buns for the Holiday Fair.  These soft, little buns were mixed in a massive recipe with squash fresh from our own gardens.   While the heavy mixing and kneading were done by our long-used machines, the rolling of dough into a smooth little bun was done by hand.  At this point in the work we relied on the saying: "many hands make light work."
The Rule of Benedict also taught this important lesson…
Let the brethren serve one another, and let no one be excused
from the kitchen service except by reason of sickness or occupation in some important work. For this service brings increase of  reward and of charity.  But let helpers be provided for the weak ones, that they may not be distressed by this work; and indeed let everyone have help, as required by the size of the community or the circumstances of the locality.  If the community is a large one, the cellarer shall be excused from the kitchen service; and so also those whose occupations are of greater utility, as we said above.  Let the rest serve one another in charity. (RB 35)
History
Soon the bakery was filled with the family sounds of  stories, laughter, and love.  This was accented with the rhythmic patterns of the dough being kneaded, rolled, and cut using the same methods of our sister bakers from the last 75 years.  After the pans were filled with the savory rolls, our sister volunteer's many hands made light work of cleaning up the bakery.
The Rule's chapter "On the Weekly Servers in the Kitchen" continues the lesson of serving each other…
The one who is ending his week of service shall do the cleaning on Saturday.  He shall wash the towels with which the brethren wipe their hands and feet; and this server who is ending his week, aided by the one who is about to begin, shall wash the feet of all the brethren.  He shall return the utensils of his office to the cellarer clean and in good condition, and the cellarer in turn shall consign them to the incoming server, in order that he may know what he gives out and what he receives back. (RB 35)
Now the bakery is still and quiet as the oven continues to warm the bakery and the proofing room while the squash buns slowly rest and rise for their baking.  Sound good?  These treats will be part of our bakery offering at the Holiday Fair!  All the funds from these savory bites will support of International Sisters Education Fund, helping those sisters who attend Mount Marty College with the goal of returning to their communities ready to serve God's people.
Blessings…and see you soon!
Blessings to you,
Return to "One Heart and One Soul"