Greetings,
Every year, the city of Yankton celebrates summer on the Missouri with Riverboat Days. The park is filled with area artists showing their creations, festival foods, and the sounds of local musicians. This year, our sisters registered a booth as well, but the sisters' booth was not selling art or promoting our Benedictine life. We were focused on promoting the sanctity of life and human dignity.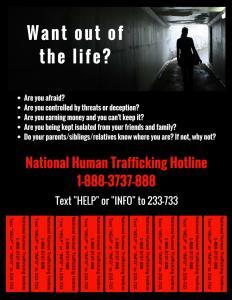 Our Social Justice committee at the monastery has been working hard to help our sisters understand the scourge of human trafficking. Sr. Joelle, committee member, presented historical and current information about human trafficking not only in the United States but also in our own state of South Dakota. They also hosted two of local agencies in the City of Yankton that work against trafficking (River City Domestic Violence Center and Yankton Police Department) to help the sisters understand what is being done to help save those being trafficked and to stop the perpetrators. The committee also shared articles, videos, and websites for the sisters to read and discuss.
Our community also felt called to work towards stopping this great harm. We have donated to the Pathfinder Center in central South Dakota, a shelter for victims of human trafficking. We have also supported the Call to Freedom center in Sioux Falls that also reaches out to help those who have escaped human trafficking with a variety of services as they establish new lives. Sr. Mary Jo said that the Social Justice committee also helped design posters to be put in "stalls in bathrooms in public places: gas stations, truck stops, parks, rest areas. The thought is that a rest room may be one of the only places that a woman who is being trafficked may be alone.  The helpline number (which is simple to memorize) is prominent, or there is a small pull off tab that she could perhaps take and hide.  It also gives the message that someone cares — that there is help out there, even if the person can't access help at the time." Our sisters also pray for the elimination of human trafficking weekly at our Eucharistic celebrations and at our Prayer of the Liturgy of the Hours.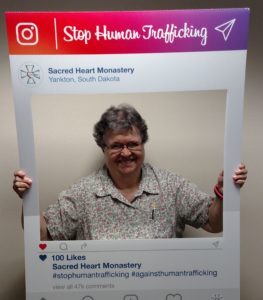 This brings us back to the Social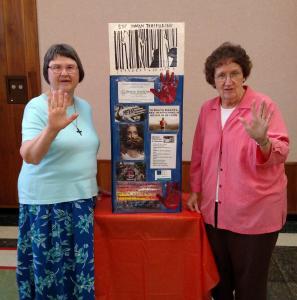 Justice committee's decision to establish a booth at the festival.
Sr. Joyce explained, "I think the main reason we are doing this outreach for Riverboat days is to raise the information to a higher level as question.  To help people see this as an issue in our small rural town of Yankton. Plus, just encase, some victim does see our signs, they can find a place to look for help." The sisters and volunteers created displays explaining the issues and numbers surrounding human trafficking in South Dakota. They also encouraged participation from visitors stopping by the booth with Instagram and Snapchat 'frames'. Inspiring guests to post a picture of themselves standing up against human trafficking.
What can you do? Educate yourself with resources from state agencies, call your local women's shelters or police department to ask what agencies in town already exist, contact your parish or diocese to learn what Church agencies are reaching out to offer services. You aren't alone in the desire to honor the human dignity of each person and the sanctity of each life.
Blessings to you,