Greetings,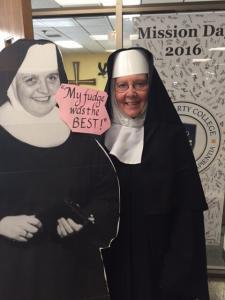 .
Our sisters serve with joy in a variety of ways through sharing their gifts and talents with the people of God. This doesn't mean a bit of fun can't be celebrated along the way.
.
Sr. Bonita Gacnik
, professor of Mathematics and Computer Science, joined in the fun at Mount Marty College.  Every year, the College celebrates Founder's Day and remembers
the history
of the founding of the college in 1936.  Mother Jerome is honored for her role in founding the college, but she was also famous for her fudge.  So, on Founder's Day, we have a "Judge the Fudge" contest.  Faculty and staff make fudge and then students, faculty, and staff taste each kind of fudge and then vote on their favorite.  Sr. Bonita dressed up as Mother Jerome and participated in the "Judge the Fudge" Contest to help celebrate the day.  Sister found time in the midst of the laughter and fun to pose not only with her student prayer partners at the college but also with Mother Jerome herself.
.
Sr. Bonita also joined in a Halloween contest hosted by the Mount Marty College Bookstore.  They partially filled a glass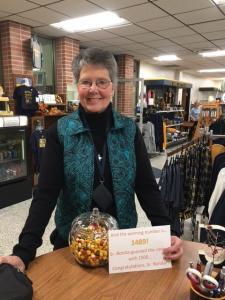 pumpkin candy jar with several kinds of M&Ms (pure chocolate, with nuts, with yogurt, etc.).  Then students, faculty, and staff submitted their guesses of how many pieces of candy were in the jar.  Sr. Bonita put her expert math skills to work and joined in the contest.
"Because it was a glass jar, I guestimated the number of candies on the top layer (remember, the candies were of various sizes).  Then, I guestimated the number of layers of candy in the jar and then I multiplied my two guestimates (the number of candies in 1 layer X the number of layers of candy) to get a guestimate of the total number of candies in the jar. I submitted my guess of 1500.  There were actually 1489 candies in the jar."
Sister won all of the candy and a small bag containing bag clips, pens, and post-it notes!  She also had the joy of sharing in all the laughter and love with those whom she serves.  We are all called to live this
balance of Benedictine life
:
Pray: God is the source of all gifts in our lives and we express our gratitude in prayer. As a whole community we gather three times a day to give thanks and praise to God. We also seek to know Jesus on a personal level and do this by praying with the scriptures, with creation or by just sitting in God's presence.

Work: Our overall work is to spread the kingdom of God in the world. Our prayer and community life together provides the energy we need to do this ministry. Each sister's gifts and talents are matched with the ministry needs so that she may grow in her personhood and those to whom she ministers may see the action of God in their lives.

Play: It is part of our tradition to both work and play. Play is a great way to nourish our relationships with our sisters, to re-energize, to get in touch with creation, and to nourish the child in us. Laughter is great medicine.

Celebrate: We need to take time out of our ordinary schedules to celebrate the important events of our lives. We celebrate birthdays, feast days, professions, jubilees with much anticipation and excitement. Funerals are also important as we gather to celebrate the sister's life among us and her birth into eternal life. If we were to list some of the high points of community life, celebrations would be near the top of the list.