Greetings,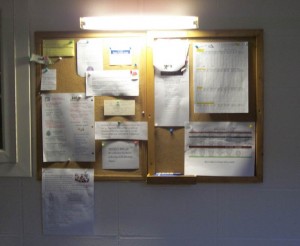 As Advent comes to a close and the Christmas Season approaches soon, the monastery quietly hums with the joyful service of sister for sister.
There is so much that needs to be done in a very little time with only ONE DAY for the fourth week of Advent! As we prepare to dive into the celebrations of Christmas, the religious and the secular.  Sisters are needed to decorate the Chapel, arrange the Nativity, place the poinsettias, set-up the treats and clean-up the dishes for the Christmas and New Year's socials, gather cards and board games for recreation, and the lists go on and on…
All of these needs find their way to the little cork board by the refectory; sign-up lists abound but so do our sister volunteers willing to carry out whatever service is needed.
As the Rule of Benedict says…
Let the brethren serve one another, and let no one be excused from the kitchen service except by reason of sickness or occupation in some important work. For this service brings increase of reward and of charity. But let helpers be provided for the weak ones, that they may not be distressed by this work; and indeed let everyone have help, as required by the size of the community or the circumstances of the locality.
If the community is a large one, the cellarer shall be excused from the kitchen service; and so also those whose occupations are of greater utility, as we said above.
Let the rest serve one another in charity (Rule of Benedict 35: 1-6) .
Christmas blessings to you,
Return to "One Heart and One Soul"