Greetings,
Rule of Benedict:  chapter 49 "

On the Observance of Lent

"

Although the life of a monk out to have about it at all times the character of a Lenten observance…we therefore urge that during the actual days of Lent the brethren keep their lives most pure and at the same time wash away during these holy days all the negligences of other times…and give ourselves up to prayer with tears, to reading, to compunction of heart and to abstinence. During these days, therefore, let us increase somewhat the usual burden of our service, as by private prayers and by abstinence in food and drink.  Thus everyone of his own will may offer God "with joy of the Holy Spirit" something above the measure required of him.  From his body, that is he may withhold some food, drink, sleep, talking, and jesting; and with the joy of spiritual desire he may look forward to holy Easter.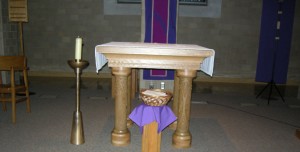 And at other times also, if anyone should want to pray by herself, let her go in simply and pray, not in a loud voice but with tears and fervor of heart.  She who does not say her prayers in this way, therefore, shall not be permitted to remain in the oratory when the Work of God is ended, lest another be hindered, as we have said. 
Our daily Mass and Liturgy of the Hours are celebrated amid the simple stone of our Chapel and purple banners of Lent.
Rule of Benedict:  chapter 49 On The Observance of Lent (cont'd)
Let each monk, however, suggest to his Abbot what it is that he wants to offer, and let it be done with his blessing and approval.  For anything done without the permission of the spiritual father will be imputed to presumption and vainglory and will merit no reward.  Therefore let everything be done with the Abbot's approval.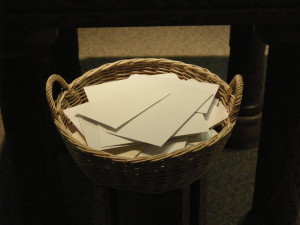 Our Lenten resolutions, received and blessed by the Prioress on Ash Wednesday, remain before the altar throughout the Lenten season as a reminder to us and a continuous offering and sacrifice to the Lord.  Ash Wednesday also began our monastic Lenten traditions of sacrifice and almsgiving. As a community, we join the Universal Church in continuing our Friday sacrifice and abstinence from meat; however, we also add an additional simple supper of soup and bread on Wednesdays. Finally, we refrain from our Sister Baker's fresh-made treats throughout the Lenten season.
Our community also shares in the Benedictine tradition of table reading during our weekday suppers. This Lent we are sharing in listening to "The Fire in the Cloud" by Francis Martin. Our Benedictine family is also joining in almsgiving; the Sunday donations to the monastery and our sisters own personal offerings, reserved from their personal budgets, will be offered to AIM, Alliance for International Monasticism.
The Rule of Benedict encourages us to "Listen carefully with the ear of your heart."  Sister Penny, Prioress of our Monastery, reflected on this quote in her Ash Wednesday reflection to the community.
When we truly listen to another person in conversation, or to our God in prayerful encounters, we risk being changed by what we hear; we risk being called to act differently. We become vulnerable to the other. In emptying ourselves to make room for the new, we risk conversion. This is the heart work of listening, of Lent. We open ourselves, our hearts so that we might come to greater understanding, to a new sense of things, to possibly even being transformed, and empowered to act in new ways. As followers of Jesus we listen so that we might come to know how to be more like the One to whom we've opened our heart – how to act more like Jesus, the One in whose image we are made.
Be assured of our prayers for you throughout this sacred Season of Lent. If you would like to share your intentions with us, follow this link to our homepage for
prayer requests
.
Blessings to you,