Sister Mary Jo Polak's Vocation Story
I b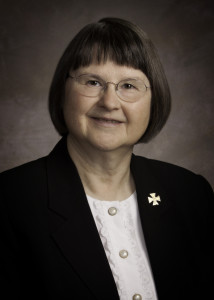 elieve that God always calls us to be our best self, our true self, and that knowing who we are and what works with our personalities, gifts and talents is part of discerning one's vocation.  God gave me a bit of musical talent, and used that as a way to nurture my vocation to religious life.
I grew up on a farm north of Lincoln, Nebraska, and we belonged to St. Mary's Parish in Davey.  My parents were active in the parish and were in the choir.  I started playing the organ for our CCD Masses while in grade school, and graduated to being the main organist while in high school.  In the pre-Vatican II era when girls couldn't serve or read in church, I had no doubt that I had something to contribute to God's people.
I attended Bishop Neumann High School and, since I was thinking about being a music teacher, joined the band to expand my experience.  Our marching band in those years always received Superior ratings, and we had a great director.  Before a marching contest, I remember feeling the desire within my fellow students to work together, play in harmony, and please our music instructor.  Somehow, that connected me with a lifelong desire to be part of a community with a greater purpose.
I was pretty quiet and studious in high school, so going on to college at the University of Nebraska as a music major forced me to perform and talk in front of large groups.  I also enjoyed activities at the Newman Center and made life-long friendships there.
After 3 years of teaching, I wanted to get my Master's degree; I was offered a graduate assistantship in the fine arts education program at Truman State University in Missouri. So off I went, fully intending to return to Nebraska in a year and meet a nice Catholic boy.  My first weekend in Missouri, I introduced myself to the pastor and mentioned that I was an organist.   The next weekend he tapped me on the shoulder as I sat in the pew, and asked me to play for that very Mass – which ended up being a two year commitment!  Graduate school was a time of spiritual growth for me, and I began a serious discernment about entering a religious community.  One evening I was visiting some sisters who worked in a neighboring town.  At evening prayer, they played "Be Not Afraid" which was a new song back in the 1970's.  The line, "Come follow me" hit me like a ton of bricks, and I said "yes" to God that night.
So, I both graduated in August of 1977 and entered Our Lady of Peace Monastery in Columbia, Missouri.  I transferred to Sacred Heart Monastery here in Yankton in 2010, and yes, I am still playing the organ in praise of our God.  The Benedictine way of life is a simple Biblical spirituality, with community life and liturgical prayer as anchors.  My family, my small country parish, and my experiences with music have prepared my heart to love the Benedictine way.  Our monastic tradition has much to give a world that is hungering for meaning and peace.
Sister Mary Jo Polak
Vocations — Join us!
Find out what it takes to be ONE HEART in loving Jesus, your Sisters, and the world.