LITURGICAL ARTIST -S. MARY KAY PANOWICZ, OSB
Artist—Designer-Consultant
Sister Mary Kay Panowicz is a trained liturgical consultant who works with parishes and congregations that are doing renovation or construction projects involving sacred space. Her services include education, facilitation, liturgical furnishings, and font design, and design collaboration with architects. She focuses her ministry in working with rural parishes and congregations in Iowa, Nebraska and South Dakota.
Sister Mary Kay has a studio at Sacred Heart Monastery and in addition to her consultant ministry does a variety of commissioned liturgical art including stoles, vestments, banners, altar paraments, stained glass design, and fabric applique wall pieces. She is an accomplished photographer.
She earned her BA degree in art at Mount Marty College, her MSS in graphic design and mixed media at the University of South Dakota, and a Doctor of Ministry degree in Applied Ministry with a focus in liturgical design from the Graduate theological Foundation. She also completed the liturgical consultant training program at catholic Theological Union in Chicago.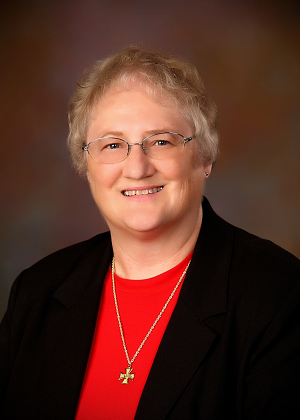 S. Mary Kay Panowicz OSB, D. Min.
email: mkpanowicz@mtmc.edu
Liturgical Artist
Liturgical Designer
Liturgical Consultant
Vocations — Join us!
Find out what it takes to be ONE HEART in loving Jesus, your Sisters, and the world.