Health Care Ministry
The Gospel mandates the ministries of healing, giving people health and life as Jesus did. The Sisters of Sacred Heart Monastery responded to the needs of the people and began Sacred Heart Hospital in Yankton over 115 years ago. Today the Sisters minister in a wide variety of health care settings. Ss. Joyce Streff (pictured below) and Joyce Feterl are hospital chaplains. Other Sisters help in St. Joseph's Care Center, looking after the physical and emotional needs of our elderly sisters; S. Sarah Schulz is a nurse working at Avera Sacred Heart Hospital, while several other Sisters are nurse educators at Mount Marty College; Ss. Mary Carole Curran and Kate Crowley are working in the field of mental health. In his Rule, St. Benedict writes, "Before all things and above all things, care is to be taken of the sick so that they may be served, in very deed, as Christ himself." (Rule of Benedict, Chapter 34) S. Debra Kolecka, a Certified Nurse Practitioner, reflects on this teaching, "I see in this a double meaning: to serve others as if we were serving Christ and to serve others as Christ would serve them." S. Debra serves the health needs of the monastic community and also is System member for Avera.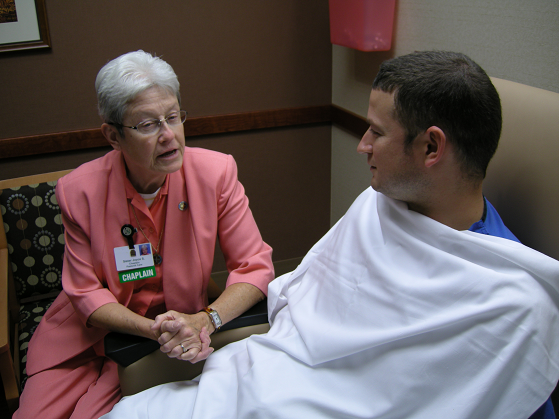 S. Joyce Streff offers listening ears and heart to the patients she ministers to as a chaplain in Good Samaritan Hospital in Kearney, NE.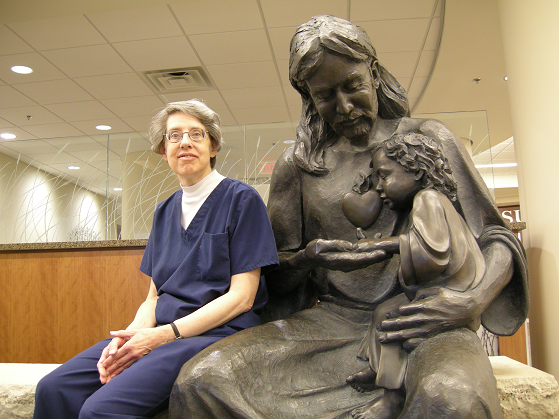 Before beginning a night shift of nursing,
S. Sarah Schultz stops at the image of the Sacred Heart of Jesus in the lobby of Avera Sacred Heart Hospital. 
Vocations — Join us!
Find out what it takes to be ONE HEART in loving Jesus, your Sisters, and the world.
Learn More