Music and the Arts
Sacred Music Resource Center
The Sacred Music Resource Center is a specialized library which collects, preserves, and provides access to Gregorian plainchant publications representing the period from 1880 to the present.
Private Piano, Organ and Voice Lessons
Sr. Patricia Ann Toscano teaches piano, organ and voice lessons.
 Experience the Casavant Organ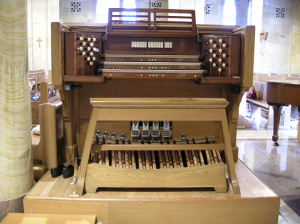 Sr. Patricia Ann Toscano gives organ lessons on this beautiful Casavant organ in Bishop Marty Memorial Chapel. The organ may be heard at Sunday liturgies and occasional concerts. For a description of this organ, visit the Twin Cities American Guild of Organists.
Liturgical Art/Design/Consultation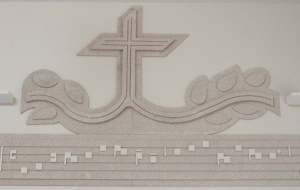 Sr. Mary Kay Panowicz creates custom designed vestments, stoles, banners and also designs altar furniture, baptismal fonts, and other religious art work for sacred spaces. She is a trained liturgical consultant who works with parishes who are renovating or building worship spaces. S. Marykay Panowicz art.
 Stained Glass
S. Kathleen Courtney creates small stained glass pieces, primarily vigil lights and mobiles. She also incorporates stained glass into her outreach retreat work, Praying in Color. Click here for St. Kathleen's contact information.
Vocations — Join us!
Find out what it takes to be ONE HEART in loving Jesus, your Sisters, and the world.