Outreach involvement within the community
The hands and heart of Benedictine Hospitality reach out to help those in need around our town and state.  We call these volunteer ministries our "Outreach."  Outreach takes many shapes,  from the person to person mentoring in the Big Friend, Little Friend program,  to administrative work. In addition, various sisters fund raise as a board member in one of the many social agencies in our the Yankton area.  Sisters who minister in other towns address the special needs of those communities. Many Sisters volunteer in areas related to their areas of expertise. For example, working with the deaf Catholic community of the Sioux Falls Diocese, tutoring mentally challenged adults, and being on the advisory board for Dakota Diabetes.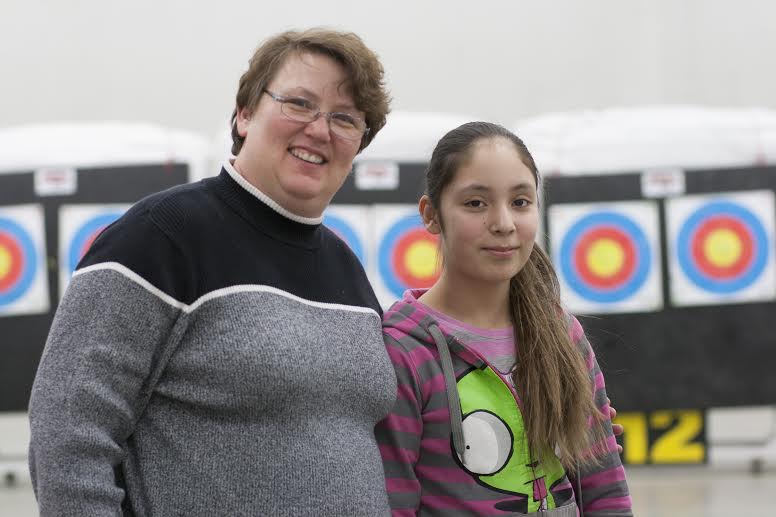 S. Lynn Osika is a board member for Pathways Shelter for the Homeless. She is pictured in the top left photo helping with their First Annual Cardboard City to raise awareness about homelessness in Yankton and the surrounding areas.
Outreach —  it's all an opportunity to see the face of Christ in our neighbor. Sister Kathryn Burt is one of several Sisters who mentor girls through the Big Friend, Little Friend program in Yankton. (Second picture from the top)
Sisters Raise Awareness on Human Trafficking Issue – 
The Monastic Council distributed a questionnaire about social justice areas that we at Sacred Heart Monastery as a community would be interested in focusing.  As a community we decided to focus on human trafficking and the Death Penalty.  The Social Justice Committee was asked to assist with these choices.  The monastery has begun this focus. We encourage others to become educated about this national and state problem, to be aware of one's surroundings, and to get involved in helping stop this crime.
Click here to learn more about how Sacred Heart Monastery Sisters are raising awareness on Human Trafficking Issues.
Vocations — Join us!
Find out what it takes to be ONE HEART in loving Jesus, your Sisters, and the world.
The Banquet
As a group, Sacred Heart Monastery Sisters prepare and serve a meal at "The Banquet" twice a year, and donate and prepare turkeys for the Yankton Community Thanksgiving Dinner.
Extending the life of our things…
All the Sisters are involved with our recycling efforts  — paper, aluminum, clothing, etc.  Back in the 6th century, St. Benedict said that the monks' old clothing should be "stored in a wardrobe for the poor. (Chapter 55, Rule of Benedict)"   S. Cynthia Binder even uses fabric scraps to make cloth gift bags for our gift shop.
Providing  Educational Opportunities for Inmates…
Mount Marty College (Sponsored by Sacred Heart Monastery) has had a two year associates degree program at the Federal Prison Camp since 1990. Sisters help with Sunday Mass and Bible study at the Federal Prison Camp in Yankton. Several have been on teams for "Residents Encounter Christ" retreats in the state prisons while others have prison pen-pals.
Among the area social agencies, sisters currently serve on the Boards of:
Yankton Area Child Protection Team
Contact Center
Emmaus Catholic Worker House