Greetings,
Today, our Sister Vocation Director was once again in the right place at the right time.  She happened to see this beautiful deer enjoying the peace and quiet of our own back yard!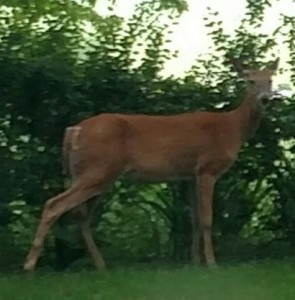 Truly, who is God except the LORD?
Who but our God is the rock?
This God who girded me with might,
kept my way unerring,
Who made my feet like a deer's,
and set me on the heights… (Psalm 18: 32-34)
As the deer longs for streams of water,
so my soul longs for you, O God.
My soul thirsts for God, the living God.
When can I enter and see the face of God? (Psalm 42: 2-3)
The lesson remains the same: keep your eyes open wide…you don't know where or when the glory of God will be revealed in the most unexpected moments.
Blessings to you,