Greetings,
Each day of National Catholic Sisters Week, we will be sharing the story of one of our new members or Jubiliarian Sisters, those celebrating significant anniversaries in religious life!  Today, we honor our two Diamond Jubilarian sisters as we remember their 75 years of service to Christ, Church, and Community…
Sister Laeticia like many in her generation, was raised on a farm, with her twin brother Edmund and 12 siblings. Sr. Laeticia entered Sacred Heart Convent on August 29, 1938 and made monastic profession in 1940.
Her many years of ministry were in education where she taught at all levels from elementary to college including 33 years of teaching chemistry at Mount Marty College. She held a BA degree, a MA in chemistry, and also a Ph.D. in chemistry from the University of Notre Dame.  Summers were spent in chemical research, and in 1972-73 she took a sabbatical year to Bonn, Germany doing research in an environmental laboratory.
At age 95, celebrating her 75th Jubilee, S. Laeticia stated, "Catholic faith and practice, family and education were important values in our family and all of those things drew me to Benedictine life. The support of close community ties, shared prayer, life and fun times together, an excellent education and the opportunity to serve many students as a teacher for decades, all made mine a very good life. There were some hard things in my monastic life too, but everyone has hard things, and none of them killed me; I learned and grew through all of them. I have kind and loving care from the sisters and the people who work in our care center, and I am so grateful for it all and for everyone in my life."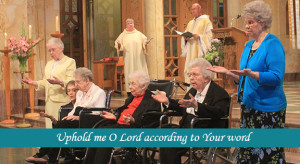 S. Jeanette also began her story by remembering that she and her twin, the youngest of eight children born to Anton and Martha, were raised on the family farm north of Yankton in the Sigel parish. Entering Mount Marty Academy introduced young Sr. Jeanette and her sister to new educational challenges and to the Benedictine Sisters. She was surprised and delighted when she discovered her twin sister and another classmate discerned independently the same vocation! S. Jeanette entered Sacred Heart Monastery in 1938 and made monastic profession on June 24, 1940.
Her teaching career began at Mount Marty High School teaching a variety of courses. She also served as Mother Jerome Schmitt's personal secretary. Her specialty was in teaching speech, theater, and music and she enjoyed directing the many plays, musicals and pageants at Mount Marty College and Sacred Heart Monastery. S. Jeanette earned her BA degree and her Master's degree in Speech and Drama. She devoted four summers abroad to study theatre with the Foreign Study League. Additional mission work included Academic Dean of Mount Marty College serving on the SD Health and Education Facilities Board, the Monastery Council and other hospital Boards of Trustees, Sub-prioress and teaching at Mount Marty College until 1992 when she received the title Professor Emeritus.
In retirement she developed an oral history resource center at the monastery and enjoyed drawing and painting as hobbies. S. Jeanette feels strongly that hope for the future is anchored in living together as a "bonded community" devoted to prayer. Reflecting on her 75th Jubilee of monastic living, S. Jeanette states "I'm grateful for the years of my faithfulness to God and God's faithfulness to me these many years!"
Blessings to you,
Return to "One Heart and One Soul"