Greetings,
Each day of National Catholic Sisters Week, we will be sharing the stories of our Jubiliarian Sisters, those celebrating significant anniversaries in religious life!  Three of our sisters are celebrating 50 YEARS of service to Christ, Church, and Community…
Sister Rosemarie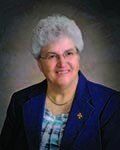 Sister Rosemarie grew up on a farm near Constance, NE and as a student in both Constance and Yankton, she says, "I would say the most significant and foundational influence in helping me know my vocation was the strong and lived faith of my parents. Having Yankton Benedictines as teachers in elementary school was influential in helping me realize the call to live my vocation in the Benedictine way of life."
She entered the monastery in August of 1965 and made her monastic profession on June 29, 1967. Sister Rosemarie states, "I have been blessed many times over in these 50 years by the countless people whose lives have touched mine – in my Benedictine community and in my various ministry experiences." She ministered to families in parish ministry and with youth and young adults in the church for a majority of those years, which included ministry to the people of God in St. Therese Parish in Sioux Falls; Blessed Sacrament in Grand Island, NE; St. Leo's in Gordon, NE; and St. Elizabeth's in Merriman, NE. She served as Vocation Director for the monastery and for the last 24 years in campus ministry at the Newman Centers at USD, Vermillion, and UNK, Kearney, NE and is now continuing her service in campus ministry at Mount Marty College.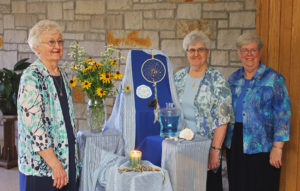 Of her Jubilee she says, "I am so very grateful for the abundant blessings that have been mine in these 50 years through the people who are part of my life in our Benedictine community, my family, and the people I've been honored and privileged to minister with and to. In our Benedictine community I have found support for personal and spiritual growth, encouragement to live the call to balance, and daily conversion in times of joy and challenge. I am grateful for the daily reminders to 'seek God in everyone and everything everyday of my life.' Jubilee for me is the celebration of God's faithful love and presence in my life! It is with great joy and deep gratitude to God, family, community, and all with whom I have ministered that I celebrate this jubilee year!"
Join us in praying for Catholic Sisters and Nuns who continue to seek God's Will and serve God's people throughout our nation.  Pray also for women who continue to discern God's will in their lives.
Loving God, by your grace,
Catholic Sisters throughout the world continue to respond to Your Baptismal invitation
to live lives dedicated to prayer and loving service.
Enkindle in their hearts a renewed desire to be zealous servants of the Gospel
and continuing signs of Your presence in our world.
Preserve and strengthen in them the passion and the vision
to welcome and to serve all Your people without hesitation or pause.
As they strive to live the mission of their respective congregations,
empower them to do so with courageous simplicity,
consecrated celibacy, and committed obedience to Your will.
We ask this in union with Jesus the Christ,
who showed these dedicated women the way to living in union with You.  Amen.
~Mary Rose Romeo, SSJ
Blessings to you,