Greetings,
Each day of National Catholic Sisters Week, we will be sharing the stories of our Jubiliarian Sisters, those celebrating significant anniversaries in religious life!  Three of our sisters are celebrating 50 YEARS of service to Christ, Church, and Community…
Sister Joelle
Sr. Joelle grew up on a family farm near Harrold, SD, and received the sacraments at St. John's Catholic Church in Harrold. Community life, respect for all creation, and care for others both at home and in a small town community led her to monastic life at Sacred Heart Monastery, the same values are woven throughout the Rule of St. Benedict. Her first profession was June 29, 1967. After professing final vows at Sacred Heart Monastery June 30, 1973, she served with underprivileged children and teenagers for three summers in Memphis, TN. She later co-founded Hope Preschool for disabled preschoolers. Following these years, she was the director of Mount Marty College Bookstore.
"When I entered community, the doors of renewal with Vatican II were just beginning to open. The Catholic Church and religious life changed in many good ways. I am grateful for the opportunity to have lived during the changes that energized our community as it evolved with Vatican II during my early years of religious life."
Sr. Joelle then had the opportunity of ministering to the physical and material needs of her Benedictine Sisters by serving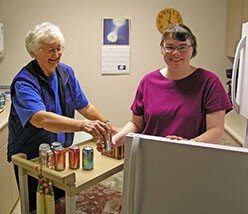 the community as Procurator. St. Benedict tells the Procurator, "They must show care and concern for the sick, young, guests and the poor" and "to regard all utensils and goods of the monastery as sacred vessels of the altar" (Rule of Benedict 31). In attempting to adhere to these directives, she was also active in several social agencies within the city of Yankton:   the Contact Center which was responsible for the Women's Shelter at the time and the establishment of the Visitation Center for children and parents. She also served on the boards of the Banquet and Homeless Shelter as they became realities and is currently a board member of Pathways: Shelter for the Homeless. Sr. Joelle was also the director of the Sacred Heart Monastery Oblates for ten years.
Presently, Sr. Joelle is the monastery hospitality coordinator and assists with a variety of other needs within the monastery. She is also on the monastery Social Justice Committee, currently focusing on ending human trafficking and the death penalty. With Jubilee joy she says, "As a Benedictine celebrating fifty years of monastic life, I am continually invited to deepen my relationships within the web of life, seeking God in everyone and everything, every day of my life and treasuring what has been." 
Join us in praying for Catholic Sisters and Nuns who continue to seek God's Will and serve God's people throughout our nation.  Pray also for women who continue to discern God's will in their lives.
Loving God, by your grace,
Catholic Sisters throughout the world continue to respond to Your Baptismal invitation
to live lives dedicated to prayer and loving service.
Enkindle in their hearts a renewed desire to be zealous servants of the Gospel
and continuing signs of Your presence in our world.
Preserve and strengthen in them the passion and the vision
to welcome and to serve all Your people without hesitation or pause.
As they strive to live the mission of their respective congregations,
empower them to do so with courageous simplicity,
consecrated celibacy, and committed obedience to Your will.
We ask this in union with Jesus the Christ,
who showed these dedicated women the way to living in union with You.  Amen.
~Mary Rose Romeo, SSJ
Blessings to you,