Greetings,
Each day of National Catholic Sisters Week, we will be sharing the story of one of our Jubiliarian Sisters, those celebrating significant anniversaries in religious life!  Today, we honor our fourth Golden Jubilarian as we remember her 50 years of service to Christ, Church, and Community…
Our Sister Margo was born in Yankton, SD, to Verdi and Hattie and was a student in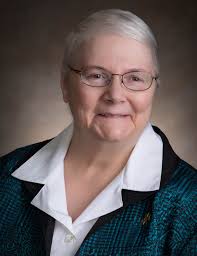 Hoven, Tabor, and Yankton, SD. Having Yankton Benedictines as teachers influenced her toward the religious life, she joined the convent in 1964 and made first monastic profession in 1966. She graduated from Mount Marty College and then taught in Lincoln, NE, and Sioux Falls, SD.
Sister Margo continued to teach and taught at Hope Preschool for 7 years and at Sacred Heart School in Yankton for 34 years. Sister Margo and S. Joelle Bauer co-founded Hope Preschool and taught in it from 1972- 1979. Since retiring, she has been helping with activities for the Care Center Sisters, tutoring people from the Yankton Abilities Building Center in Yankton, and teaching ERTH (Ecummenical Religious Training for the Handicapped program), which she co-formed 37 years ago.
Throughout her life, beginning in the first grade through high school, she had Yankton Benedictines for teachers. She states, "It only stands to reason that since I felt called to religious life it would be to the Yankton Benedictines. The joyful presence of these Sisters was the biggest influence in my life. As a Benedictine and a teacher, I had many opportunities in the past 45 years to plant the seeds for Benedictine men and women try to live out by following The Rule of St. Benedict." Sister Margo goes on to say, "I find it hard to believe that I have lived the Benedictine life for fifty years. I thank God daily for being a Benedictine Sister at Sacred Heart Monastery in Yankton." (Yankton Benedictines, Spring 2016)
Join us in praying for Catholic Sisters and Nuns who continue to seek God's Will and serve God's people throughout our nation.  Pray also for women who continue to discern God's will in their lives.
Loving God, by your grace,
Catholic Sisters throughout the world continue to respond to Your Baptismal invitation
to live lives dedicated to prayer and loving service.
Enkindle in their hearts a renewed desire to be zealous servants of the Gospel
and continuing signs of Your presence in our world.
Preserve and strengthen in them the passion and the vision
to welcome and to serve all Your people without hesitation or pause.
As they strive to live the mission of their respective congregations,
empower them to do so with courageous simplicity,
consecrated celibacy, and committed obedience to Your will.
We ask this in union with Jesus the Christ,
who showed these dedicated women the way to living in union with You.  Amen.
~Mary Rose Romeo, SSJ
Blessings to you,