Greetings,
Each day of National Catholic Sisters Week, we will be sharing the story of one of our Jubiliarian Sisters, those celebrating significant anniversaries in religious life!  Today, we honor our third Golden Jubilarian as we remember her  50 years of service to Christ, Church, and Community…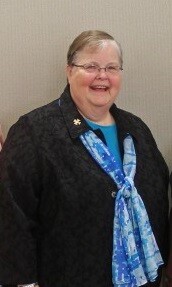 Our Sister Kathryn grew up with faith in two key areas of her life. Having attended only Catholic schools, she was familiar with many different orders of Sisters. S. Kathryn says, "I became acquainted with our Benedictine Sisters who staffed our parish grade school, Cathedral of the Risen Christ (then Holy Family), where I attended junior high and then returned to teach for a year after graduation from college. The sisters lived two houses away from our home and walked by the house each day; I was drawn by their joy and their warm family spirit. I didn't have the Monastic words or a deep thoughtful reflection for my relationship with them at the time. They just became my friends… ."
In addition to the influence of the Sisters themselves, Sister says, "My parents and family played a significant role in my desire to become a Sister. Our parents were faith-filled witnesses of the Catholic Faith in many ways, most memorable being their daily Mass attendance and their consistent involvement in and service to the Church… It was no surprise I would have their love and support in my decision to enter religious life for which I am most grateful." On choosing religious life by entering in 1964, Sister says, "I knew I wanted to serve the Church, and I wanted to be a part of the Benedictines as they served. I found a joy-filled community of women, seeking Christ who were committed to prayer, the Liturgy of the Hours, the Eucharist, and service. It was a perfect fit! I am in awe and feel blessed to receive my calling to monastic life at Sacred Heart Monastery." She made first profession in 1966.
Following her perpetual monastic vows, Sister Kathryn continued being involved in Catholic education as an instructor and as a principal. She taught in Lincoln and Hartington, NE; Yankton and Vermillion, SD; and 30 years in the Sioux Falls Catholic School System in Sioux Falls, SD. She was elected prioress and served from 1989 to 1997.
For her, Jubilee is a celebration of God's love, presence, and guidance on her journey as a Benedictine sister. Jubilee is a celebration of her family, her Benedictine family, and her friends–their love and support through these 50 years. Jubilee is a celebration of hope and joy for the years to come. Sister Kathryn shared her favorite quote from the Rule: "Prefer nothing whatever to Christ and may he bring us all together to everlasting life."  (Yankton Benedictines, Spring 2016)

Join us in praying for Catholic Sisters and Nuns who continue to seek God's Will and serve God's people throughout our nation.  Pray also for women who continue to discern God's will in their lives.
Loving God, by your grace,
Catholic Sisters throughout the world continue to respond to Your Baptismal invitation
to live lives dedicated to prayer and loving service.
Enkindle in their hearts a renewed desire to be zealous servants of the Gospel
and continuing signs of Your presence in our world.
Preserve and strengthen in them the passion and the vision
to welcome and to serve all Your people without hesitation or pause.
As they strive to live the mission of their respective congregations,
empower them to do so with courageous simplicity,
consecrated celibacy, and committed obedience to Your will.
We ask this in union with Jesus the Christ,
who showed these dedicated women the way to living in union with You.  Amen.
~Mary Rose Romeo, SSJ
Blessings to you,