Greetings,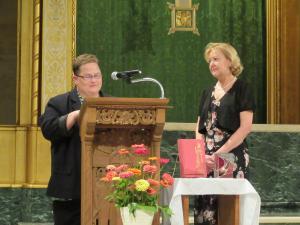 Each day of National Catholic Sisters Week, we will be sharing the stories of our Sisters celebrating key moments in their formation to serve Christ, Church, and Community…
Join us in praying for Catholic Sisters and Nuns who continue to seek God's Will and serve God's people throughout our nation.  Pray also for women who continue to discern God's will in their lives.
Theresa was received into the Novitiate at our Monastery during evening Vespers on Sunday, August 5th. During her Novitiate year, Novice Theresa will spend time in prayer, work, and study. She will study the Rule of St. Benedict; Benedictine life, community, and history; Scripture, and the meaning of Monastic Profession (vows) while participating in the daily activities and prayer life of the Monastery. Sister Sharon Ann will serve as her director as she reflects on this step in her religious life.
Novice Theresa says, "I am looking forward to immersing myself into the Monastic Life. My goal is to seek God's will in all things I do. I know that if this is where He wants me, this will be a blessed time in my life."
Novice Theresa became acquainted with our community when she became a residential volunteer in the spring of 2016. Before coming to the Monastery, she attended college in Indiana for education, taught at a Montessori school and kindergarten, and then became a primary care-taker for her father. She has enjoyed serving in various ministries at the Monastery including the Gift Shop.
Loving God, by your grace,
Catholic Sisters throughout the world continue to respond to Your Baptismal invitation
to live lives dedicated to prayer and loving service.
Enkindle in their hearts a renewed desire to be zealous servants of the Gospel
and continuing signs of Your presence in our world.
Preserve and strengthen in them the passion and the vision
to welcome and to serve all Your people without hesitation or pause.
As they strive to live the mission of their respective congregations,
empower them to do so with courageous simplicity,
consecrated celibacy, and committed obedience to Your will.
We ask this in union with Jesus the Christ,
who showed these dedicated women the way to living in union with You.  Amen.
~Mary Rose Romeo, SSJ
Blessings to you,
Return to "One Heart and One Soul"