Greetings,
Each day of National Catholic Sisters Week, we will be sharing the stories of our Jubiliarian Sisters, those celebrating significant anniversaries in religious life!  Our three Diamond Jubilarian sisters are celebrating 60 YEARS of service to Christ, Church, and Community…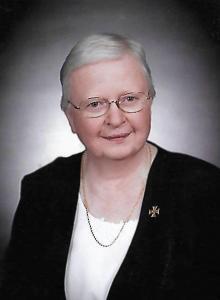 Sister Bernadette began life on the family farm near Laurel, Nebraska. She attended school at Holy Trinity in Hartington, Nebraska and taught a year at Bunker Hill rural school near Hartington before studing a year at Mount Marty College. Sister shares, "Because of the services the Benedictine Sisters from Yankton had given the Hartington area, I finally became aware of my vocation; I joined Sacred Heart Community in 1954."
Sr. Bernadette served  in a variety of ministries: 35 years teaching kindergarten through college, parish work, companion for another Sister, and work in hospice care.  She also worked with Native Americans at the Standing Rock and Crow Creek Reservations.  In retirement she continues to share her life of faith by quilting, sewing, preparing vegetables, serving community meals, and spending many pleasant hours volunteering in the Yankton community. Sr. Bernadette says, "Inspired by relatives who were priests and Sisters, I knew this is the life I was meant to have."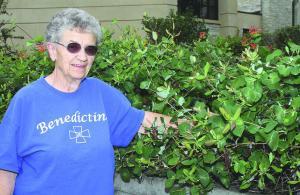 Sister Matthew was raised with two brothers and one sister on the family farm near Haymarsh, North Dakota. She attended the area parish school at St. Clement's in Haymarsh and St. Mary's High School in Richardton, North Dakota. After entering the monastery in 1954, she took English and religion courses at Mount Marty College. She also worked in the Vestment Department from the time she was a candidate.
Over the years, Sr. Matthew ministries have included gardening, cooking, sewing, house-keeping, and serving as Eucharistic Minister. Her service also included a unique opportunity of ministry also included serving at the Bishop's House in Sioux Falls for nearly a year.  Sister has also served as a housekeeper at the college for 22 years and even learned to upholster furniture!  Sr. Matthew presently assists at Mount Marty College planting flowers and recycling and serving the St. Joseph Care Center as a seamstress. She gives credit for her skills to her sisters in community. She felt these women taught her more than any formal classes. Sr. Matthew writes about her life of faith in this way: "As I look back over these years, I'm happy about them. I've had good times and bad times, but God has helped me through it all and I thank Him."
Sister Louise
Marie was raised on the family farm of rural Freeman, South Dakota. The faith and life of her parents influenced her readiness to find God in the nature she so loved. Listening to "The Call" of the Lord in her heart that she experienced one summer afternoon out in a pasture, she marveled at the summer sounds and the gentle quiet around her… "I heard a gentle but strong voice come from deep within 'Go to the convent!' I knew in some unexplainable way this to be the Lord's voice." She entered Sacred Heart Monastery on August 20, 1954. The Benedictine Sisters touched her spirit by their prayerfulness, goodness, and happiness. She graduated from Mount Marty High School and then Mount Marty College with a Bachelor's degree in Education, and later earned a Masters of Education degree from the University of Nebraska-Lincoln.
Sister has a passion for teaching and for 38 years she served in elementary education in South Dakota, Colorado, and Nebraska. She then became the Director of Religious Education for St. Benedict Parish, Yankton, South Dakota, for 16 years. Sister has retired now to the monastery but continues to share her life of faith by serving through hospitality for the Monastery Peace Center, teaching adults who experience difficulties in reading, taking care of the Monastery art, driving Sisters to appointments, as well as serving on the Mount Marty College Board of Trustees. She also shares her talents of calligraphy, liturgical art work, card making, baking, and creative writing. Of the blessings in her life, she states, "Being out in nature has always been both gift and awareness of the presence of God to me."
Join us in praying for Catholic Sisters and Nuns who continue to seek God's Will and serve God's people throughout our nation.  Pray also for women who continue to discern God's will in their lives.
Loving God, by your grace,
Catholic Sisters throughout the world continue to respond to Your Baptismal invitation
to live lives dedicated to prayer and loving service.
Enkindle in their hearts a renewed desire to be zealous servants of the Gospel
and continuing signs of Your presence in our world.
Preserve and strengthen in them the passion and the vision
to welcome and to serve all Your people without hesitation or pause.
As they strive to live the mission of their respective congregations,
empower them to do so with courageous simplicity,
consecrated celibacy, and committed obedience to Your will.
We ask this in union with Jesus the Christ,
who showed these dedicated women the way to living in union with You.  Amen.
~Mary Rose Romeo, SSJ
Blessings to you,