Newsletter
Pictured Spring 2019 Yankton Benedictines Select the image below to view newsletter in a PDF format.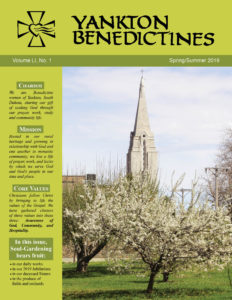 Interested in having the newsletter sent to your inbox? Sign up for the Yankton Benedictines. Above all, (Don't worry we won't spam your inbox, view our privacy policy on the bottom bar of our homepage).
Scan past issues of Yankton Benedictines by clicking here: See Archives page for older issues.
Recent Events and News 
Scroll down to read recent news about:
Sister to Make Impact at Border In a Familiar Spot
Ss. Maribeth Wentzlaff and Kathy Burt attend Commonweal's Public Square Award
Benedictine Sisters Fight To Combat Human Trafficking
New Member Orientation Under Way For Benedictine Oblates at Sacred Heart Monastery
Yankton's Benedictine Peace Center Offers Program For Spiritual Growth
S. Peggy Venteicher Makes Her Perpetual Profession
Theresa McGinn Begins Novitiate at Sacred Heart Monastery
S. Mary Carole Curran Reaches 60 years at Sacred Heart Monastery
Novice Terry Lafferty Makes First Profession
S. Maribeth Her Voice Article
See Archives page for other events including 2017, 2016, and 2015 Jubilee Celebrations.
SHM Volunteer Program
Come and explore our incredible setting as a Resident Volunteer!