Novitiate - Door To The Formation Center
Novitiate Door
"Come my daughter listen to me, I will teach you the fear of the Lord"
From Ps. 34:12
S. Marietta Kerkvliet of Sacred Heart Monastery answers the questions, Are there any activities outside of the community? What classes do they study?
<iframe width="560″ height="315″ src="https://www.youtube.com/embed/AKPpSxRnWlE?rel=0″ frameborder="0″ allowfullscreen></iframe>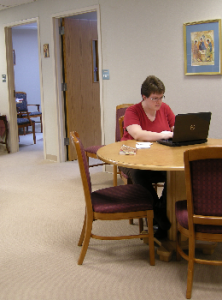 A look through the doorway of the Formation Room
This is a time of integration and preparation to enable the novice to better recognize her vocation to monastic life and experience the manner of living this life. She will be formed in mind and heart by its spirit, and tested for her intention and suitability to live this way of life. The novitiate may be one to two years in length and is spent at Sacred Heart Monastery.
NEXT: If you feel attracted to religious life, find more information on the next pages.
See also our events page.
Vocations — Join us!
Find out what it takes to be ONE HEART in loving Jesus, your Sisters, and the world.