Benedictine Online Oblate Chapter (BOOC)
Online Oblate Chapter
An increasing number of lay people are attracted to a life of prayer and to a more complete dedication to God. Although these lay people do not wish to abandon their families, their jobs, or their responsibilities in society, they are drawn to a deeper life of prayer and communion and they desire to form small communities with other lay people. Through this Online Oblate resource many of these people find support, nourishment, and enrichment for their spiritual life by participating in a close relationship with a monastic community (Plaiss, 1999). They find monasticism, and especially monastic spirituality, appealing (Hensell, 2000).
Benedictine Spirituality
Benedictine spirituality is particularly appealing to many. Some wish to learn about and practice Benedictine Spirituality as Benedictine Oblates, affiliates with a particular monastery, but are not able to attend regular meetings in a traditional (i.e., in-person) group setting. Unfortunately, the synchronous nature of traditional oblate chapters may cause them to be unavailable to some of the laity. Time constraints, geographic distances, work and family demands, physical disabilities, and health circumstances are among the reasons traditional oblate chapters might not be available to interested laity who might otherwise be able to participate.
Oblates
There are also Oblates who participate in traditional oblate chapters but want more frequent contact and sharing with other Oblates.
Historically, Oblate chapters have been remarkably responsive to the spiritual needs of the times and have shown elasticity and creative responses to the needs of a particular circumstance interpreted through the Benedictine tradition (Buchanan, 1999). As an example of this creativity and elasticity, Sacred Heart Monastery offers a Benedictine Online Oblate Chapter (BOOC) in order to provide an alternative for laity who wish to become oblates and affiliate with a monastery, but desire or require the anytime, anywhere online alternative. This option is also available for Oblates who have already made oblation but want more….
Congratulations to the twelve individuals who made First Oblation, the six who made Final Oblation and the individual who made final Oblate in 2017.
Effective for the 21st Century
Online technologies are becoming the delivery systems of choice for those who are otherwise engaged during traditional contact hours (Collison, Elbaum, Haavind, & Tinker, 2000). The BOOC offers a traditional oblate chapter curriculum and employs "best practices" for online certificate programs and online courses (WCET, 2002). It is the hope of Sacred Heart Monastery that the BOOC will provide a viable alternative to and/or an enhancement of traditional (i.e., in-person, face-to-face group based) oblate chapters.
References
Buchanan, J. (1999). Monks beyond monastery walls: Benedictine oblation and the future of Benedictine spirituality. Unpublished doctoral dissertation, Graduate Theological Foundation of Donaldson, Indiana.
Collison, G., Elbaum, B., Haavind, S. & Tinker, R. (2000). Facilitating Online Learning: Effective Strategies for Moderators. Madison, WI: Atwood Publishing.
Hensell, E. (2000, June). Letter from the editor. The American Monastic Newsletter, 30 (2), 1.
Plaiss, M. (1999). Lay monasticism. Cistercian Studies Quarterly, 34(3), 369-373.
Western Cooperative for Educational Telecommunications, Boulder CO, & Western Cooperative for Educational Communica-tions. (2002). Best practices for electronically offered degree and certificate programs. Colorado: Author. (ERIC Document Re-production Service No. ED468164).
Recent News
Mid- July 2017, S. Bonita concluded her 8 years as President of the National Association of Benedictine Oblate Directors. She installed the new President (in black) Sister Pricilla Cohen of Cullman, Alabama and new VP, Sr. Celine of Norfolk. Fr. Mark of Subiaco was past Vice President. S. Bonita will continue work for the Yankton Benedictines online program.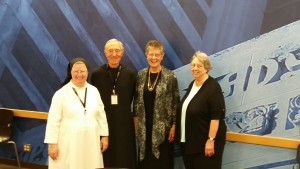 IF YOU ARE INTERESTED IN BECOMING AN ONLINE OBLATE, PLEASE
Fill out this interest form
HERE
. 
We will send you a confirmation Email that we have received your submission.
IF YOU PREFER TO USE REGULAR MAIL FILL IN REQUESTED INFORMATION IN THIS
Benedictine Online Oblate Interest Form  PRINT & RETURN THIS INFORMATION TO:
S. Bonita Gacnik, Online Oblate Chapter Director
Sacred Heart Monastery
1005 West 8th Street
Yankton, SD 57078
(605) 668-6229/-1582/-6000
Vocations — Join us!
Find out what it takes to be ONE HEART in loving Jesus, your Sisters, and the world.