Online Scripture Study at the Benedictine Peace Center
 Lenten Wednesday Morning Study — The Book of Genesis, Part 2

Wednesday Mornings, 9:30 to 11:00 a.m. Central Time
Five Sessions, February 24 – March 24
During this Lenten season we will continue our on-line study of the Book of Genesis with Part 2.  In this study we will reflect on the journeys of Isaac, Jacob and the story of Joseph and his brothers from the perspective of what these accounts reveal to us about God and God's relationship with the Israelites and what they reveal to us for our spiritual journey today.  These five sessions will include study, reflection, discussion, YouTubes and prayer using materials from the Little Rock Scripture Study.  Facilitated by S. Doris Oberembt, New participants are welcome!
For more information and to register, contact S. Doris at 668-6022 or doberembt@yanktonbenedictines.org no later than February 15.   Pre-registration is required so that books may be ordered.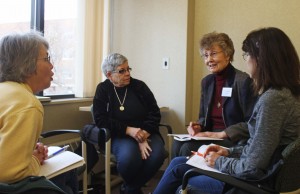 The Word of God is Alive and Active!
What do the the Scriptures mean for my life? How can something written 2000 years ago speak to me today? What can these strange stories, with old fashioned examples, tell me about how I should live?  The answer is that we believe that the Holy Spirit is alive and well, and speaks to us through the Bible as we are able to hear.  "The Word of God is alive and active (Hebrews 4:22)."  In our sharing groups, we may learn about the times and places of the Bible, but more importantly, we share and pray about how these words can shape our lives today.
What are the study be like? You will purchase a text with study guide, and will read a section for each meeting.  (Contact us for more information on the costs for these studies.)  The Wednesday sessions will include input and time for discussion, sharing, and prayer.
The Little Rock Scripture Study has some good resources on-line at https://littlerockscripture.org/Resources/Index.
Click for Directions to the Benedictine Peace Center at Sacred Heart Monastery.
Vocations — Join us!
Find out what it takes to be ONE HEART in loving Jesus, your Sisters, and the world.