Fall 2021 Online Scripture Study Offerings
at the Benedictine Peace Center
Wednesday Morning Scripture Study
The Book of Exodus, Part 1
Wednesday Mornings, 9:30 to 11:00 a.m. Central Time
Five Sessions:
Sept. 29 – Oct. 27
Five Sessions, Lent 2022
The Exodus is a foundational event of the Old Testament giving meaning to everything else we find in it.  In Part 1 of this study we explore the first 15 chapters of this book.  In them we learn how God calls Moses to intercede for his people in slavery.  Following the plagues he led them through the sea into the Sinai desert where they are formed as a people of God.  What is the significance of these chapters for Christians today?   What are we invited to learn from them for our life's journey?   
Each of the five sessions, held online on Wednesday mornings, will include study, reflection, discussion, YouTubes and prayer using materials from the Little Rock Scripture Study.  S. Doris Oberembt will be your facilitator.  
Click for a downloadable brochure or a flyer.  For more information and to register, contact S. Doris at 605-668-6022 or doberembt@yanktonbenedictines.org. 
Pre-register by Sept. 22 so that books may be ordered.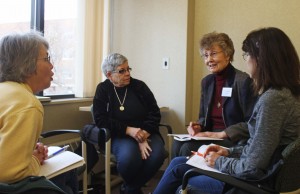 The Word of God is Alive and Active!
What do the the Scriptures mean for my life? How can something written 2000 years ago speak to me today? What can these strange stories, with old fashioned examples, tell me about how I should live?  The answer is that we believe that the Holy Spirit is alive and well, and speaks to us through the Bible as we are able to hear.  "The Word of God is alive and active (Hebrews 4:22)."  In our sharing groups, we may learn about the times and places of the Bible, but more importantly, we share and pray about how these words can shape our lives today. 
The Little Rock Scripture Study has some good resources on-line at https://littlerockscripture.org/Resources/Index. 
Wednesday Evening Scripture Study

The Gospel According to Luke
Wednesday Evenings, 7:00 – 8:30 p.m. Central Time
Meeting on Zoom
Six Sessions, Fall 2021
Five Sessions, Lent 2022
Join us in discussing the Gospel of Luke on Wednesday evenings, hosted by the Benedictine Peace Center.  The short text, The Gospel According to Luke by Father Michael Patella OSB, and the excellent resources of the Little Rock Bible Study will be our guides.  Your weekly preparation consists of reading the commentary and spending prayerful time with the study and reflection questions.  In session, we will pray, discuss, and watch a supplemental video. The sessions will be facilitated by S. Mary Jo Polak OSB, beginning Sept. 29.  
The book description for Part I tells us that, "The Gospel of Luke demonstrates the universal nature of Jesus' mission and the compassion of God. Part One of this study includes Luke 1:1–11:54, taking the reader from the infancy narratives of John the Baptist and Jesus to their births and then to the Galilean ministry of Jesus."   The Gospel of Luke recounts some of our favorite Gospel stories, such as the parables of the Good Samaritan and the Prodigal Son. 
Click for a downloadable brochure or a flyer.  For more information, e-mail maryjo.polak@yanktonbenedictines.org,  call 605-668-6021, or just fill in the form below to register.  (If you do not get a personal response from S. Mary Jo within a week, please send her an email — the form may have malfunctioned.) 
An introductory lecture can be found on this page. 
Please register by September 22!
Register here — or contact S. Mary Jo at the above address.
My participation in the Yankton Benedictines' online study courses (2021 Lenten Retreat, Genesis II and Laudato Si) provided a remarkable giant step forward in my spiritual formation. All class content (assigned readings, open forums, videos and participant exchanges) reinforced God's presence in my day-to-day life (spiritual, physical, emotional, intelectual). The courses also made me more aware of my accountabilities in relationship with God and humankind. In all three studies, facilitators created a rich learning experience, fostering open discussion, encouragement and support, while challenging the status quo to achieve a higher calling in service to the Creator and Creation. Studying with the Benectine Sisters has become a "must have" in my spiritual life. Looking forward to upcoming classes.