Doors to Initial Formation
Postulancy
What can be sweeter to us than the voice of the Lord inviting us?
From the Prologue of the Rule of Saint Benedict.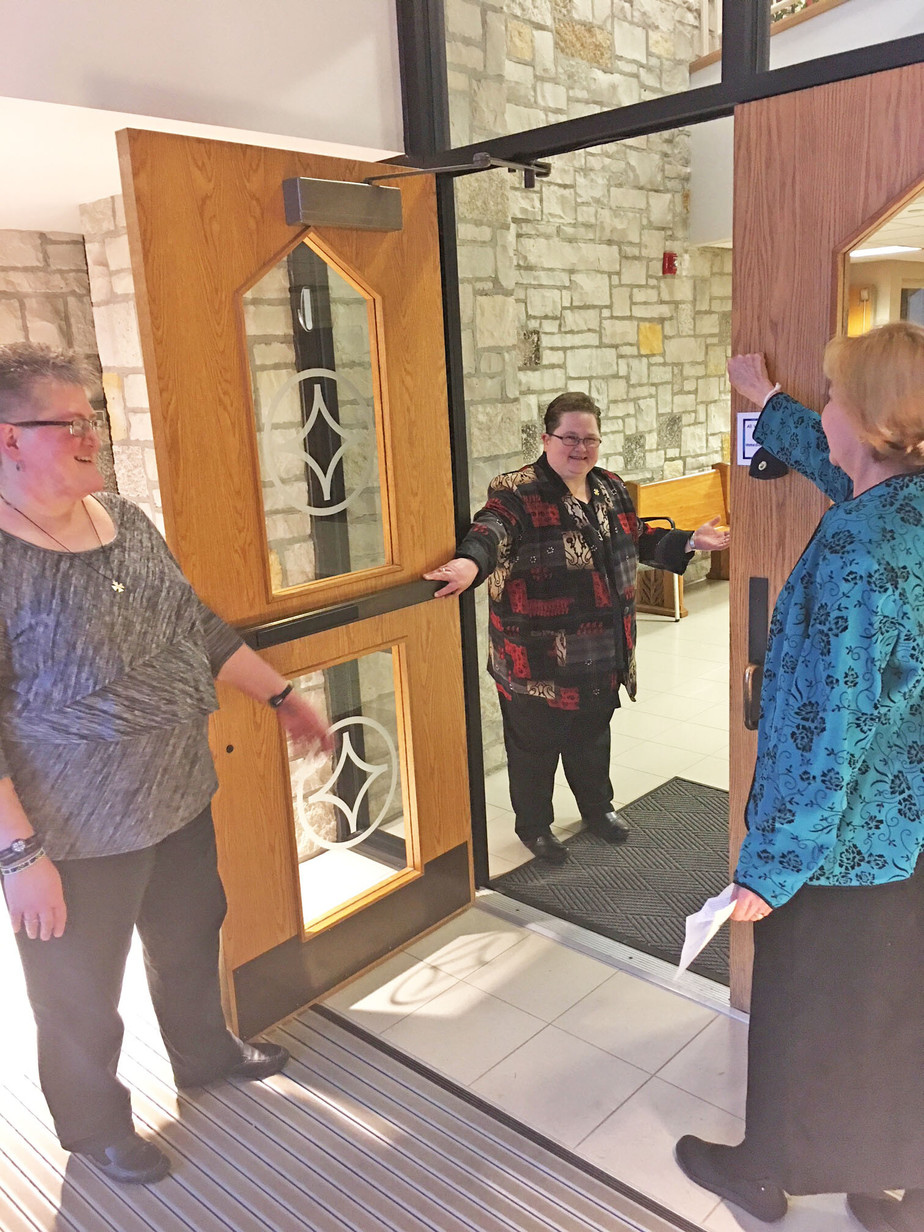 Theresa McGinn (far right), accompanied by S. Clarice Korger, Vocation Director, was welcomed to the Postulancy by Prioress Maribeth Wentzlaff on January 12, 2018. Update: August 5, 2018 Theresa McGinn was welcomed to the Novitiate.
Doors to Initial Formation: Postulancy
As the newcomer enters the Postulancy she begins a life-long formation process guided by the Holy Spirit which takes place in the midst of community life. During the postulancy, usually 6 months to a year, the newcomer shares in the life, work and prayer of the community as she and the community discern God's call to her in to this Benedictine way of life.
NEXT: If you feel attracted to religious life, find more information on the next pages.
See also our events page.
S. Marietta Kerkvliet of Sacred Heart Monastery describes what the life of a postulant entails including the types of classes and work.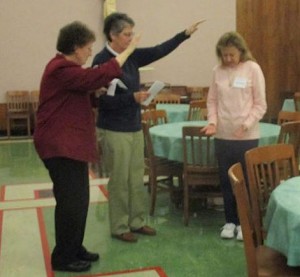 In a simple ritual, Theresa McGinn, accompanied by S. Clarice Korger, Vocation Director, knocks at the front door of the monastery and was welcomed by the Prioress, S. Maribeth Wentzlaff and the community gathered inside. Theresa McGinn was received into Sacred Heart Monastery, Yankton, SD, as a Postulant in a simple ritual on January 12, 2018. After Theresa symbolically knocked on the front door of the Monastery, the Prioress, S. Maribeth Wentzlaff, asked, "What do you seek?" to which Theresa responded, "I want to live in love and service of God with the help of this community." The monastic community affirmed her request and S. Maribeth presented her with a medal of St. Benedict. The celebration continued at Vespers and supper.
Theresa McGinn, a former second and third grade teacher and a teacher of 2 year olds in a Montessori school, arrived from Florida on Monday, March 7. "I loved the little kids but often came down with everything they had. I loved teaching. I really did." Needing to become the primary care-taker for her father, she put that ministry aside for a while. After her father's death, she lived with her sister and family for a time in order to decide what she was going to do with her life moving forward. She considered both the contemplative and the active religious communities. While discerning her call, Theresa found the Yankton Benedictine's Residential Volunteer Program, a program designed to provide single women (without dependents) with an opportunity to discern new directions in life. She contacted Sr. Bonita, and as they say, the rest is history.
Vocations — Join us!
Find out what it takes to be ONE HEART in loving Jesus, your Sisters, and the world.