Prayer, Fellowship…and Ice-cream!
Greetings,
We welcomed the new Lancers to the Mount and Monastery the weekend before Mount Marty College began the Fall semester.  As the sisters and students filled into the Chapter Room, we mixed and mingled among the tables.  Prioress Penny welcomed the students to the Monastery and offered our promise of prayerful support to all the new students.
For all the Sisters of Sacred Heart Monastery, I welcome you to our monastery, our home and to this beautiful campus as you begin your college career at MMC.  We Sisters are proud to sponsor MMC as a Catholic, Benedictine learning community, with its values of Community, Hospitality, Awareness of God, and Lifelong learning.  You will get to know some of us Sisters as your teachers, staff members, and volunteers at the college.  You will see us Sisters at games, concerts, plays, and lectures.  Hopefully, all of you will get to know one of us as your prayer partner (an added benefit besides the prayer support are the invitations to meals!). In other words – we are greatly interested in MMC as a whole – and in you personally.  Thank you for being with us today.  We pray for everyone at MMC regularly – and especially for you these days as you begin this new adventure.  God's blessings for each of you.
Sister Maribeth, campus minister, reminded them to seek connections in all these new experiences, she also hinted at the importance of prayer partners with the sisters.  Sister Clarice, vocation director, extended an invitation for all the students to join us in the Liturgy of the Hours, Mass, and Adoration.  After this (semi) formal introduction, the sisters joined the freshmen in a variety of ice-cream treats while sharing in fellowship at the tables.  Soon the chapter room was filled with the overlapping of voices and laughter as the students began to share their stories from home and hopes for the year to come. The sisters too shared advice from their own years of teaching or being a student at Mount Marty over the years.  A wonderful afternoon was had by all!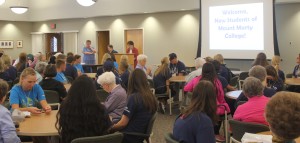 Join us in praying for these new members of the Mount Marty community.
Return to "One Heart and One Soul"