Greetings,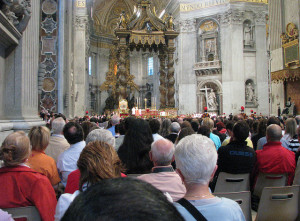 I've been reflecting on Pentecost 2010 when I had the blessing to celebrate at St. Peter's Basilica in Vatican City!  Looking back through our blogs, I found this quick reflection from the day:
I have just returned from our celebration of Pentecost at Saint Peter's Basilica! It was awesome! No really, I sat in awe as the Basilica began to fill with men, women, and children of all cultures and languages…habits, saris, dresses, and suits of all colors swirled around us as we found our places in the body of the church. We were about 40 to 50 yards back from the altar and had a wonderful view of Pope Benedict XVI.

I was very grateful for the booklet for the Mass. The main part of the service was in Latin, and I am glad that Srs. Patty Ann and Madonna worked me so hard during the postulancy and novitiate to learn how to pronounce the basics
and follow Gregorian notation. I could at least follow along and muddle through the responses with some energy and effort! The readings, responses, and prayers were also proclaimed in English, German, Spanish, Chinese, Portuguese, Italian, French, and a few others. It impressed upon me the universal outreach of the Church and how each of the cultures has also influenced us.
I remember the readings for Pentecost took on a whole new meaning as each was proclaimed in a different language…
"And they were all filled with the Holy Spirit and began to speak in different tongues, as the Spirit enabled them
to proclaim…each one heard them speaking in his own language" (Acts 2).
Renewing our Baptismal Vows with the Universal Church followed by the Sprinkling Rite were also amazing experiences of unity in the faith. Surrounded by Catholics visiting Saint Peter's Basilica and Vatican City from around the world, I remember being overwhelmed at the realization of the Church Apostolic being deeply unified despite the distances that might separate us.
"There are different kinds of spiritual gifts but the same Spirit; there are different forms of service but the same Lord; there are different workings but the same God who produces all of them in everyone. To each individual the manifestation of the Spirit is given for some benefit. As a body is one though it has many parts, and all the parts of the body, though many, are one body, so also Christ. For in one Spirit we were all baptized into one body, whether Jews or Greeks, slaves or free persons, and we were all given to drink of one Spirit" (1 Corinthians 12).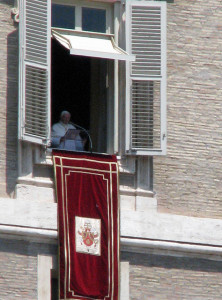 As we received a blessing from Pope Benedict XVI at the end of the Regina Caeli, I remember offering the Lord all my concerns about searching for a teaching position. I had been searching for ministry as a teacher throughout my last semester of graduate school and was growing worried; honestly, the day did bring me some peace.  Little did I know, it would be another six weeks of prayer-filled (im)patience before God would bless me with the gift of becoming a THEOLOGY teacher.
"If you love me, you will keep my commandments. And I will ask the Father, and he will give you another Advocate to be with you always. Whoever loves me will keep my word, and my Father will love him, and we will come to him and make our dwelling with him…I have told you this while I am with you. The Advocate, the Holy Spirit whom the Father will send in my name, will teach you everything and remind you of all that I told you" (John 14).
(Article thanks to Sr. Carol Jean)
Blessings to you,