Praying In Color: Children
Praying In Color Children
A retreat is a time to step back, to be still and to nurture our relationship with God.
The children's retreats will be held during the school day or on a weekend. They are usually one to two hours in length. The retreats
are designed for grades 3-5 although they can be adapted for grades 6-7.
Praying in Color
Children are invited to enjoy a contemplative moment. This one-hour retreat invites students to experience prayer using color.
It offers the opportunity to invite God into the students' daily living as they pray for themselves and remember others. This is excellent for Catholic Schools Week.
Advent: Come Lord Jesus
This retreat offers students the opportunity to look for the birth of Emmanuel by using a word a week in their Advent reparation. Participants will be introduced to the historic St. Nicholas and the spirit of giving through a PowerPoint and making gift boxes. St. Nicholas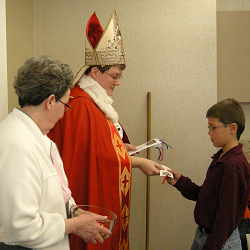 may even pay a surprise visit.
–How can I prepare for Jesus to come into my heart this Advent/Christmas season?
–Do I see Jesus as the best gift ?
–How do I share that Gift with others?
Lent: Journey with Jesus
This retreat offers students a time to reflect on how they might follow Jesus this Lent. Lent is a time when we often think of giving up things but how can we make it a time of giving of ourselves and our time. The format will be prayer, discussion and a hands-on activity.
–What do the Gospels of Lent say about how I can live each day?
–What practice will bring me closer to Jesus?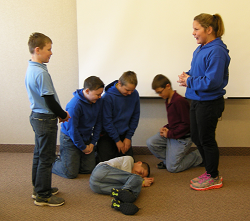 For more information or to schedule a retreat visit our contact information page.
Vocations — Join us!
Find out what it takes to be ONE HEART in loving Jesus, your Sisters, and the world.