Praying In Color: Confirmation Retreats For Parishes
"Called by Name"
A retreat is a time to step back, to be still and to nurture our relationship with God.
Parish Confirmation Retreat:
Benedictine Sisters from Sacred Heart Monastery will come to your parish to assist your students in their preparation for Confirmation. Better yet, you may bring your students to the monastery to experience prayer with the Sisters as part of the retreat.
The creative and experiential five-hour retreat, led by an experienced team (link to staff) focuses on a conversation about the gifts of the Holy Spirit, embracing the sacrament of Baptism, and their vocation and service to the Church.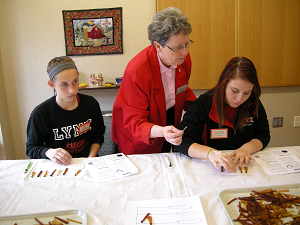 Retreat Format:
Eucharist with parish or monastic community
Brunch/Lunch
Introduction: revisiting and ritualizing our Baptismal call with mime, PowerPoint and reflection
---
Four concurrent sessions: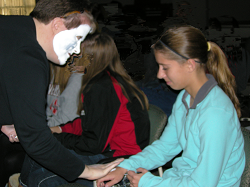 1. Theology of Gifts of the Spirit and reverencing their Baptismal name
2. Creation of Gift chimes with stained glass
3. Journaling: Writing with Jesus daily
4. Creation of masks and reflection on the masks we wear
Integration and gathering of the wisdom learned from the retreat
Love/gratitude letters written to parents
Reconciliation or closing prayer
For more information or to schedule a retreat visit our contact information page.
Vocations — Join us!
Find out what it takes to be ONE HEART in loving Jesus, your Sisters, and the world.