Online Contemplative Mornings at the Benedictine Peace Center
Online Contemplative Mornings — Third Saturday of Most Months
9:00 a.m. to Noon
We welcome you to Contemplative Mornings, one of our online retreat experiences at the Benedictine Peace Center.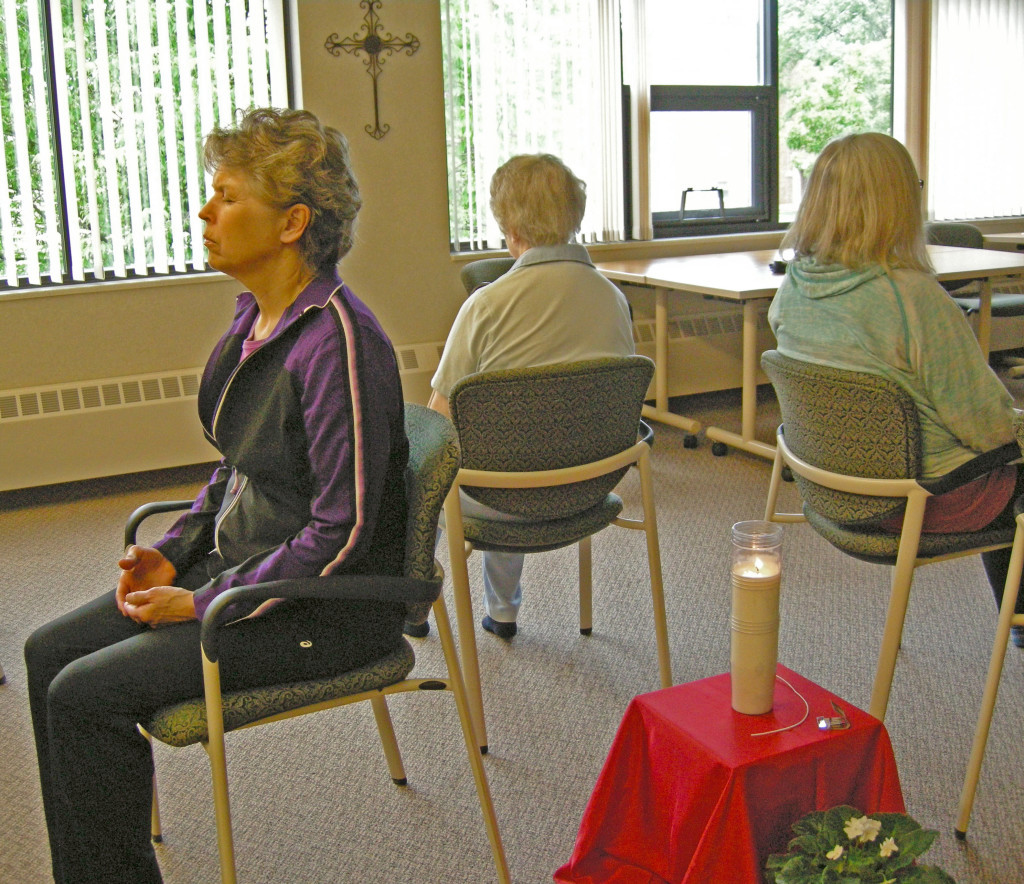 Centering Prayer sessions are usually held on the third Sat. of most months at Sacred Heart Monastery from 9 – 11:45. This involves four sittings of 20 minutes each with a break after the first two sittings, complemented by a teaching and quiet solitude time.   Participants are expected to be vaccinated nd to wear a mask.   
For further information or to participate in these sessions, contact us at Benedictine Peace Center 605-668-6292 or email Sr. Doris at: doberembt@yanktonbenedictines.org.  Please call ahead as our schedule sometimes varies.
What is Contemplative Prayer? 
In Christian contemplative prayer, one lets go of thoughts and images to simply attend to the Divine Presence.  Contemplative prayer is a way of praying following the example of Jesus who often went to the desert to pray, to be alone with His Father in loving presence and desire.  This kind of Contemplative Prayer has been an important form of prayer from the beginning of Christianity.  However over the centuries the prayer practice of just being present to God in quiet presence has lost its prominence to the more discursive forms of prayer in which we do the speaking and presumably God does the listening.
Many Christians today long for a more intimate relationship with God not always experienced through praying primarily with discursive prayer.  Centering prayer is a form of prayer that is responding to that desire, that need.  In Centering prayer  we come to God open, receptive, willing to listen and to just be present to God's love, letting go as best we can of the daily distractions of life.  In this prayer we are invited to be with God in this silent receptive mode letting go of our daily busyness and sitting quietly in God's presence in loving receptivity, thus freeing us to hear God speak to our hearts and experience God's love.  Centering prayer is most often done in private but is enhanced by the presence of a group of faith-filled people who share quiet time together in God's presence within each of us and in the group gathered in prayer. 
When you can join us at the monastery — What happens during a Contemplative Morning?
During a Contemplative Morning, there are four sittings of 20 minutes each with a break after the first two sittings, complemented by a teaching and quiet solitude time.
You are welcome to join the monastic community for Morning Prayer at 8:30 a.m. in the Peace Chapel
Click here to read or download our brochure.
Directions to the Benedictine Peace Center at Sacred Heart Monastery.
Vocations — Join us!
Find out what it takes to be ONE HEART in loving Jesus, your Sisters, and the world.