Greetings,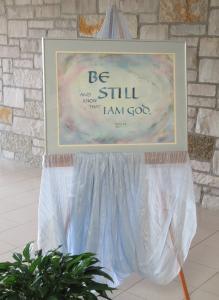 Our Summer Monastic Chapter was more than serious meeting and discussions, it was also a flurry of celebrations!
We began our celebrations with a Diamond Jubilee on Friday evening. We honored Sister Mary Carole's 60 years of Benedictine Profession and ministry to God's people.  She chose her theme from a Psalm she has always carried with her: "Be still and know that I am God" (Psalm 46:11).  Surrounded by her sisters, Sr. Mary Carole renewed her Monastic Profession, signed this promise on the altar, and rejoiced with us as she again offered her gift of of life and prayer as she sang the Suscipe.
Abbot Gregory of Saint Louis Abbey, Sister's former Spiritual Director and friend,  presided over her joyous day. His homily reflected the thousands of of milestones he passed on his journey from Saint Louis to Yankton. He reminded us that Sr. Mary Carole had progressed along many milestones in her grace-filled journey towards God. Throughout the journey she continued learning perseverance in the day to day challenges that try to obscure the true goal of her journey, and carrying stability with her wherever she served the Church thanks to the rootedness developed in her formation and sustaining her today.
Be still and know that I am God. ~ Psalm 46
Sr. Mary Carole's call to religious life began in her childhood. She shared, "I always knew God was calling me but tried at first to ignore that persistent voice. Despite receiving several scholarships elsewhere, a full scholarship to Mount Marty College appears a part of God's plan for me and drew me to Yankton and Sacred Heart Monastery." 

Sr. Mary Carole grew up in York, NE, with her parents, Jim and Mabel Curran, and brother John; her mother became ill and died when she was ten. She reflects that she, "sees now that this was also preparing me for my later ministry as a family therapist." During her mother's illness, she boarded with the Benedictine Sisters at St. Joseph's School in York, NE. After completing elementary and high school at St. Joseph's, she entered Sacred Heart Monastery in 1956. Sr. Mary Carole made her first profession in 1958 and final profession in 1961 and was then known as Sr. Mabel.

Sr. Mary Carole earned a BA and MA in math, and a PhD in psychology. Her ministries have included teaching at the elementary, secondary and college levels, as well as serving as a therapist and counselor. She was the director of Catholic Family Services for thirteen years for the Diocese of Sioux Falls, and later a psychologist with Avera Medical Group Behavioral Health in Yankton, for the last five years. "I am a life-long learner and took advantage of every educational opportunity that was available. I am very fond of traveling and have had numerous opportunities to see the world." A couple trips to note include participating in three diocesan pilgrimages and traveling to Ghana, Africa in March 2003 to visit her missionary cousin, Fr. Bill Curran. She is also an avid reader … and she "like(s) to swim, play golf, watch football on TV,

and enjoys the symphony and other cultural events." She shared, "I am now beginning to look into the future for expanded possibilities as I look forward to another life change."
"My 60 years as a Benedictine means 60 years of opportunity to make a difference. The personal, professional, and spiritual support provided by my religious community during these 60 years has enabled me to influence the intellectual and spiritual growth of young people and adults in the classroom; promote healing in the lives of abused children and adults; minister to the divorced, widowed, and separated; reach out to those incarcerated in our prisons; and provide opportunities to bring healing to veterans impacted by the horrors of war." (Yankton Benedictines Newsletter)
May the blessing of Almighty God descend upon you
to strengthen you in the coming years.
May your faithfulness and serenity be a joy to you, an encouragement to others,
and a constant witness to the Lord Jesus Christ.
and may God bring us all together to everlasting life. Amen.
Blessings to you,