Greetings,
Our Summer Monastic Chapter was more than serious meeting and discussions, it was also a flurry of celebrations!  Our Chapter weekend continued with celebrating the new promises of two of our new members; Novice Terry professed her Temporary Profession (vows) and Postulant Theresa was received into the Novitiate.
"If the Lord does not build the house, in vain do the builders labor." Psalm 127:1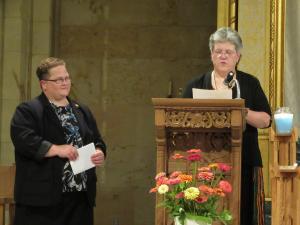 We celebrated Sister Terry's first monastic profession on Saturday, August 4th. Saturday Vespers began with statio, a solemn procession into Chapel. Our happy chatter quieted as Sister Francine lead our community into Chapel, and we began praying for Novice Terry who walked with Sr. Maribeth, Prioress, and Sr. Sharon Ann, Novice Director, at the end of the procession. Our evening prayer, then continued with Psalms and a Scripture reading that reflected the commitment of the newly professed. Finally, Sr. Maribeth called Novice Terry forward…
"Come, children, hear Me: I will teach you the fear of the Lord."
~ entrance antiphon
Before reading her profession document, Sr. Maribeth asked Nov. Terry, a question: "What do you ask of God, the Church, and of this Community?" This was a reflection of the question "What do you seek?" that she was asked when entering our Community as a Postulant and Novice. You might be wondering why the Prioress is directed to ask all these questions, it's about public intent. The questions show that she has come to us freely, with the intention of seeking God's will, and to share in our communal life. After their dialogue, Sr. Maribeth invited Nov. Terry to declare her Temporary Monastic Profession.  Sister Terry read her profession document, written in her own hand, from the ambo, promising "to God for four years stability in this monastery, fidelity to the monastic way of life, and obedience according to the Rule of Saint Benedict, the norms of the Federation of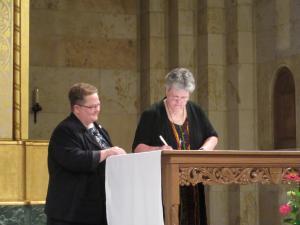 Saint Gertrude and the living tradition of this monastery." (Rule of Benedict chapter 58).
Sister Terry then carried her document to the altar where she and Sr. Maribeth signed her profession, offering her life to the service of our Community and the Church. At this time, the newly professed is in need of our prayerful intercession, and she stands before us as we join her in singing the Suscipe. When a sister professes her Perpetual Profession, this will follow Benedict's prescribed three-fold call and response with the sung prayer for God's help, for now, it has just begun. Next, Sr. Maribeth conferred Sr. Terry with our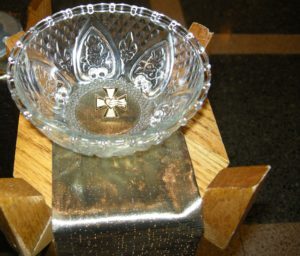 Community symbol: a cross with the Sacred Heart in its center with the waters of the mercy, waters of the Missouri, flowing from its side.
As a professed member of our Community, Sister Terry will serve as a theology professor at Mount Marty College as well as minister to the needs of our sisters. She will also continue to discern God's call for her during the next four years under the direction of Sr. Sharon Ann as she studies our Benedictine life.  Please pray for Sister Terry as she discerns God's Will.
Loving God, hear the prayers of Your Church.
Look with favor on this woman whom You have called to serve You in the monastic way of life.
Keep her on the path that leads to you.
May she ever seek what is pleasing to You and achieve it with Your gracious help.
In the power of the Holy Spirit, we ask this through Christ our Lord. Amen.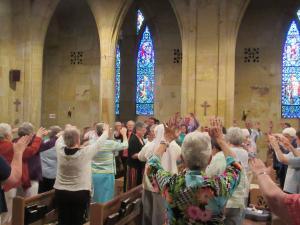 "O Lord, You search me, and You know me through and through" Psalm 139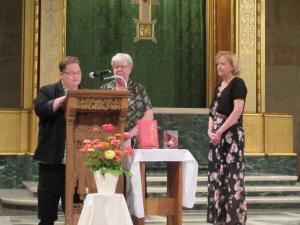 Theresa was received into the Novitiate on Sunday, August 5th. In our monastic tradition it begins a year of intense communal life and discernment, and so this stage of entering Religious Life is a Community celebration without outside guests, including the Novice's family.
During our Noon Praise on Sunday, the Community gathered in Chapel to pray for Theresa welcome her next step in our Benedictine life.  This simple ceremony has a profound significance. After we chanted Psalm 139, Sister Maribeth, Prioress, called Theresa forward.
"Come, children, hear Me: I will teach you the fear of the Lord." ~ entrance antiphon
Sr. Maribeth began their dialogue at the ambo with the same question she asked Theresa upon entering the Postulancy, "What do you seek?" While the Postulant's answer is a reflection of their individual discernment, the Novice's response is centered on our way of life: "I wish to follow Christ more fully by learning to live the monastic way of life under the Rule of Saint Benedict and the Prioress of this Community."
Sr. Maribeth also calls Sr. Sharon Ann, Novitiate Director, to the ambo to accept her responsibility in guiding and supporting the new Novice. Even the Community is asked to take on responsibility to support and be an example for Theresa!  Remember, as a Benedictine family, we live a mutual obedience and this responsibility is a part of our daily life.
Next, Sr. Sharon Ann presented Theresa with the Rule of Benedict as a sign of her being accepted in the Novitiate. She also reminded her to "study it carefully this year. In it you will hear the voice of the Lord who invites you, and who, in loving kindness shows you the way of life."
Our Noon Praise was brought to an end with the Lord's Prayer and Sr. Maribeth offering the closing prayer:
You, O Lord, are the One who calls us;
may we always search out Your will in our lives.
With Novice Theresa, we desire to serve You
within this Community in the spirit of Saints Benedict and Scholastica
and so go together to everlasting life.
We ask this through Christ our Lord. Amen.
Finally, Sr. Sharon Ann brought Novice Theresa before the Community for a sung blessing.
Abide in peace, abide in peace.
May the right hand of God's providence protect you now and forever.
Abide in peace, abide in peace.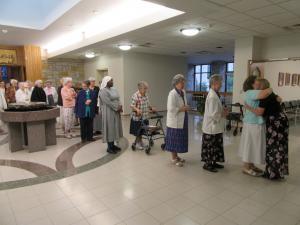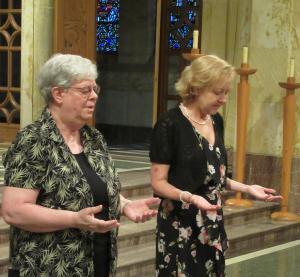 Please continue to pray for Novice Theresa as she discerns God's will in her life and within our Community.
Blessings to you,