Doors To Temporary Profession
"Let us set out on this way with the Gospel for our guide."
Prologue of the Rule of Benedict.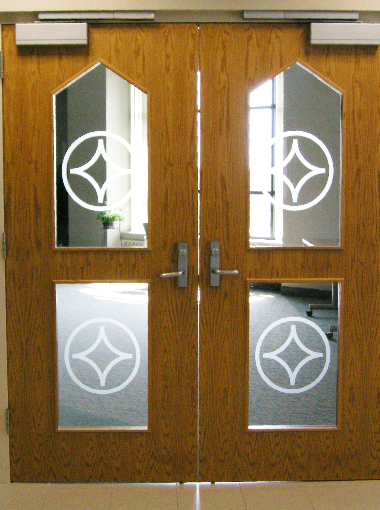 Doors to the Chapter Room, where the novice comes before the Sisters to ask permission to make temporary vows.
After both the novice and the community have discerned that she is being called by God to the way of life of a Yankton Benedictine, she makes temporary profession in which she promises before God and the whole community stability, fidelity to the monastic way of life and obedience. The sister continues her integration into community and the deepening of her commitment to Christ, the Church and this way of life as a temporary professed member.
NEXT: If you feel attracted to religious life, find more information on the next pages.
S. Marietta Kerkvliet of Sacred Heart Monastery answers questions about temporary profession. How long is this temporary profession? What kinds of things do they do during this time, work, classes etc.
At Sunday Vespers on August 3rd in the presence of S. Penny Bingham, prioress, and the  Benedictine Sisters,  S. Peggy Venteicher made her first profession  to live a life of obedience, stability and conversion of life according to the Rule of St. Benedict.  Commenting on her profession  S. Peggy reflects :  " Making first profession means saying 'Yes'  to God's call, living out Jesus' Gospel message,  and letting the Spirit guide me.   Life is a journey, a daily call to grow closer to God.    I feel being called to live the Benedictine monastic way of life is to trust and follow God's plan for my  life.  I am very blessed to have the love and support of my community Sisters, family and friends".
S. Peggy  is from Norfolk, NE,  the oldest of nine children born to Lyle and Denise Venteicher and was raised on the family farm southwest of Pierce, NE.     She graduated from Mount Marty College in 2005 with a degree in nursing.  Sr. Peggy worked at Faith Regional Health Services in Norfolk for seven years and in August, 2012 followed her desire to be a Benedictine Sister by entering Sacred Heart Monastery .    Her family joined the Sisters in the joyful celebration of her profession.   A reception was held in the monastery Chapter room after the ceremony.
Vocations — Join us!
Find out what it takes to be ONE HEART in loving Jesus, your Sisters, and the world.