Greetings,
The Catholic Church continues the celebration of Christ's Incarnation with feasts of the Saints and Apostles who proclaimed his message.  Yesterday, the Church honored Saint John the Apostle and Evangelist; our Monastic custom honors the Apostle and Evangelist with a special blessing of wine. It may seem at bit odd to honor the Beloved Disciple with a blessing and sharing of wine, but the tradition is two-fold in its origin.
First, it is a custom in the old countries to drink of "St. John's Love". The Church provided a special blessing of wine in honor of the Saint. According to legend St. John drank a glass of poisoned wine without suffering harm because he had blessed it before he drank. Second, the wine is also a symbol of the great love of Christ that filled St. John's heart with loyalty, courage and enthusiasm for his Master; he alone of all the apostles [as well as Jesus' Mother and Mary Magdalene] was not afraid to stay close to Our Lord during the Passion and Crucifixion. (CatholicCulture)
The sisters gathered in the monastic refectory (dining room) to celebrate the Feast of St. John by blessing of our gifts of Christmas wine: boxes of white zinfandel next to bottles of Merlot and even a bottle or two of Mogen David. The blessing began with a call and response, a reading from the first letter of John, and then the prioress sprinkled all the wine and sisters with holy water. Finally, Prioress Maribeth completed the blessing with a prayer that closed with a toast!
The meal was our simple Wednesday fare, but with a glass or two of wine, we all lingered at our tables. The refectory was filled with stories, chatting, and laughter…the sound of sisters catching up as family. These long meals are a gift to share our  Christmas stories and memories, and each sister has so many tales to tell!
(The Blessing Prayer)
Almighty and ever-living God,
You loved us so much,
that in the fullness of time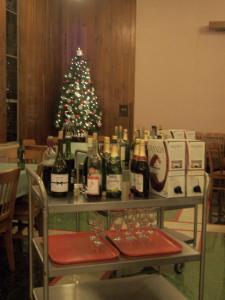 You sent Your eternal Word, born of Mary
to make His dwelling among us.
We ask You to bless this wine
which You have given us to cheer our hearts.
As we share this fruit of the vine,
empower us to become Your children.
Make us one in love
that we may share in fullness the life of Your Son,
Your Word made flesh,
who lives and reigns with you in the unity of the Holy Spirit,
in the splendor of eternal light,
God for ever and ever.
(The Toast)
"Taste and see that the Lord is good! Amen"
Christmas blessings to you,
Return to "One Heart and One Soul"