The Rule Of Saint Benedict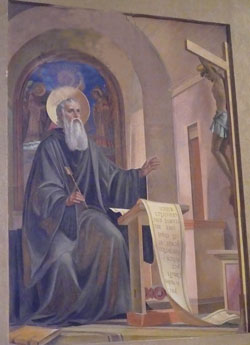 The Rule of St. Benedict was written in the early 6th century by Benedict of Nursia, Italy. The Rule contains 73 chapters which outline a way of life based on the Gospel and lived in community under the guidance of and obedience to an abbot (men) or prioress (women), and obedience to one another.
The Rule begins with the word "Listen" which sets the tone for all that follows. Benedict says that all monastics should "Listen with the ears of their heart to the voice of the Lord calling them." The call is first to community and a commitment to God and one's community members. This listening involves hearing God speaking in prayer, in people, in nature and in the everyday events of life.
Key concepts in the Rule include the centrality of prayer and work (ora et labora), humility, obedience, stability, silence, respect for persons, places and things, and service to one another and those living in the locale.
The scriptural base of the Rule makes it as relevant today and it was over 1500 years ago when it was written. It is followed by professed Benedictine men and women throughout the world and by count-less lay men and women who as Benedictine Oblates live the Rule to the best of their ability in their everyday lives.
The Rule of St. Benedict and information about the Rule can be found here.
To learn more about St. Benedict's sister St. Scholastic read St. Scholastica's story of love.
The Rule of St. Benedict
Benedictine History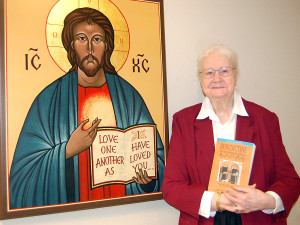 Passionate author who has written extensively about S. Benedict, S. Ann Kessler has published "Benedictine Men and Women of Courage: Roots and History." She continues to share Benedictine history through a blog on http://www.benedictinehistory.com/
Vocations — Join us!
Find out what it takes to be ONE HEART in loving Jesus, your Sisters, and the world.