Greetings,
As we prepare to elect a new prioress this Spring, we wanted to share with you the work and role of this sister in our lives as the leader of our Benedictine family.
The prioress in a Benedictine monastery is called to be deeply aware of her role as the superior.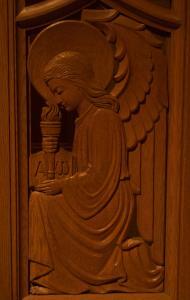 Saint Benedict sets his standards high as he describes the role of the leader in his monasteries.  "An Abbess who is worthy to be over a monastery should always remember what she is called, and live up to the name of Superior. For she is believed to hold the place of Christ in the monastery" (RB 2: 1-2).  Not only this, but the prioress must always "bear in mind that at the dread Judgment of God there will be an examination of these two matters: her teaching and the obedience of her disciples" (RB 2: 6). With these standards, it is a wonder that any sister should continue to accept the call of God and her sisters to be leader of the community.  However, her burden is lightened by the help of her Benedictine family.  The Conference of American Benedictine Prioresses described her reliance on community support in this way: "The Prioress is the central figure in the cenobitic community whose members have come together to seek God…appointing assistants to tend to the various affairs of the priory. In leading the community and exercising her authority, she does all things with appropriate counsel. And community members for their part help the prioress to discern wisely by…advising her out of their knowledge and understanding of matters under consideration" (Upon This Tradition).
The prioress of a Benedictine community in today's world must balance a variety of works for her sisters: financial, social, diocesan, governmental, medical, legal, and yes, the spiritual.  Benedict's description of her office focuses primarily on the spiritual work. "In her teaching, the Abbess should always follow the Apostle's formula: "Reprove, entreat, rebuke"… That is to say, it is the undisciplined and restless whom she must reprove rather sharply; it is the obedient, meek and patient whom she must entreat to advance in virtue; while as for the negligent and disdainful, these we charge her to rebuke and correct" (RB 2: 23-25).  The care of her sisters will even be the basis of her own judgement "Let her know, then, that she who has undertaken the government of souls must prepare herself to render an account of them…she will have to give the Lord an account of all these souls, as well as of her own soul" (RB 2: 37-38).
Sacred Heart Monastery has had thirteen prioresses over our 136 years as a community.  Mother Gertrude Leupi (1880-1891) was our first superior and one of the foundresses of our monastery in the Dakota Territory in 1880. She was followed by Mother Xavier Fischlin who was elected superior three separate times (1891-1893, 1904-1920, 1923-1925).  Mother Mathilda Cattani (1893-1904), Mother Hilda Mirau–our first American superior–(1920-1923), and Mother Francis Zweifel (1925-1932) also served our community well during those early years through the difficulties of wars, economic depression, and drought. Mother Jerome Schmitt (1932-1961) had the longest tenure of our superiors. Sisters Julia Hunhoff (1961-1973), Wilma Lyle (1973-1981), and Aidan Bourke (1981-1989) ministered to the sisters through the many changes of Church and community. Sisters Kathryn Easley (1989-1997), Jacquelyn Ernster (1997-2005), and Jennifer Kehrwald (2005-2011) came from backgrounds in education and healthcare administration.  Finally, our Sister Penny Bingham (2011-2017) is ready for a well-earned sabbatical after the new prioress is ceremonially installed to office this June.
Each prioress was elected to meet the needs of our religious community and the call of the Gospel in her time.  They have guided us through the drought and poverty of the dust bowl while stretching the goods of the monastery to help the sisters as well as the Yankton area during the times of war.  Prioresses have celebrated the building of the convent, academy, college, chapel, and new wings of the monastery.  They have walked with us through the tragedies of fire and sudden deaths of our loved ones.  They have welcomed new members and blessed the graves of old friends.  More recently, our prioresses have helped our sisters study our monastic roots, renew our heritage, and look toward our future.
Join us in prayer as we prepare to elect our fourteenth Prioress of Sacred Heart Monastery during March 16 ~ 19.
Prayer For Election of Prioress
God of all Faithfulness,
we ask you to enlighten the minds and hearts
of all the Sisters of Sacred Heart Monastery
as they prepare to elect the next Prioress.
May they select the member of the community
who is best able to lead the monastery into the future
in the Benedictine way of life according to Your will.
This we ask in Christ's name
and in the power of the Holy Spirit.  Amen
Blessings,
Return to "One Heart and One Soul"