Theology Institute at Sacred Heart Monastery
This year's Spring Theology Institute is a film directed by Wim Wender called Pope Francis: A Man of His Word.
Sacred Heart Monastery Chapter Room — All are Welcome/ No Admission Fee Registration Requested for Planning Purposes: Please e-mail at mfrigge@mtmc.edu or call (605) 668-6000. Click for Spring 2019 Theology Institute Flyer.
In response to the Spring 2016 Theology Institute with speaker Dawn Nothwehr on Catholic environmental ethics in Pope Francis' Laudato Si' Biology professor Angela Hejl took the lesson into the classroom.
"I did an activity in lab for Bio 106 asking students to reflect on some of the moral issues associated with environmental protection.   In particular,  I asked them to consider the effects on the poor and on future generations and offer solutions to the challenge of living sustainably.  My learning objective was that students come to the realization that it is a moral issue that must be addressed and we are called to be stewards of Earth's resources."
What we offer:
The Benedictine Sisters' Theology Institute provides bi-annual half-day offerings for the ongoing theological and spiritual formation of the Sisters of Sacred Heart Monastery. The ecumenical public is invited to attend these programs free of charge.
What to expect:
Recent programs have invited participants to "think theologically" about a variety of contemporary issues facing Christians.
The Fall 2015 speaker, Dianne Bergant, CSA, provided a biblical context for considering Pope Francis' encyclical, Laudato Si', on "Care of our Common Home."
On April 9, moral theologian Dawn Nothwehr, OSF, presented "Laudato Si' and Catholic Environmental Ethics in a Franciscan Key."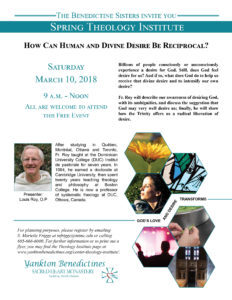 On Saturday, March 10th, 2018 speaker, Louis Roy, O.P. presented on How can Human and Divine Desire Be Reciprocal? from 9:00 a.m. – noon in Sacred Heart Monastery's Chapter Room.
On Saturday, September 30th, 2017 speaker, Vince Smiles presented on The Bible and science and how than come together to create deeper understanding from 9:00 a.m. – noon in Sacred Heart Monastery's Chapter Room.

A 2015 presenter, S. Dawn Nothwehr (left) and S. Marielle Frigge chatting at Theology Institute held in Sacred Heart Monastery's Chapter Room.
Fall 2018 Theology Institute
Human Trafficking: A Christian Response
What does the Bible say about human trafficking and why is it happening in South Dakota?  Discussion included three parties involved in a trafficking transaction, how to recognize it, and what one can do to prevent it.
PDF to view or print
Vocations — Join us!
Find out what it takes to be ONE HEART in loving Jesus, your Sisters, and the world.