Visit the Bishop Marty Chapel
Watch Sr. Anna's Welcome Video in Bishop Marty Chapel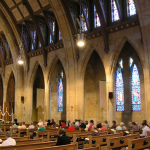 Top two photos: Sister Anna Dangel guiding a group tour.
Bottom left photo: Sister Rosaleen Dickes showing our motto in stained glass which stood over the door of one of our earliest buildings in Yankton, and now greets visitors near our front door.
Bottom right: Perspective shot of north wall of the chapel.
Arrange a Tour
Call 605-668-6000 or write to us at the address at the bottom of the page.
View Information on our Chapel.
Come Pray with Us!
Sunday and Holy Day Services are held in Bishop Marty Chapel
Our usual Sunday schedule is:
>> 8:30 a.m. Morning Prayer
>>10:00 a.m. Mass
>>5:00 p.m. Evening Prayer
Our Weekday Prayer is in the Peace Chapel
Bishop Marty Chapel

Bishop Marty Chapel Bishop Marty Chapel
Vocations — Join us!
Find out what it takes to be ONE HEART in loving Jesus, your Sisters, and the world.