Sister Maribeth Wentzlaff OSB, Prioress, 605-668-6001
S. Maribeth has lived in SD most of her life and is originally from Miller, SD. She graduated from Mount Marty College in 1988, and received her Master's in Pastoral Ministry at St. Mary University in Winona, MN. Recently celebrating her Silver Jubilee (25 years) as a Sister she spent the last several years as Campus Ministry Director at Mount Marty College. Elected in 2017 as Prioress of this community, she now serves as its spiritual and corporate leader.
"The prioress should always let mercy triumph over judgment in the hope of receiving like treatment from the Lord." Rule of Benedict, Chapter 64
Sister Sharon Ann Haas OSB, Subprioress, 605-668-6002
Sr. Sharon Ann grew up in Epiphany, SD. She attended St. Joseph's School of Practical Nursing in Mitchell, SD, received her bachelor's degree in nursing from Mount Marty College and a master of nursing from St. Louis University, St. Louis, MO. She entered Sacred Heart Monastery in 1965 and has worked in the ministry of healthcare including, infirmarian and clinic nurse, staff nurse, assistant professor of nursing. She also serves as formation director at Sacred Heart Monastery.
"The sub-prioress, for her part, is to carry out respectfully what her prioress assigns to her, and do nothing contrary to the prioress's wishes or arrangements" (RB 65.16).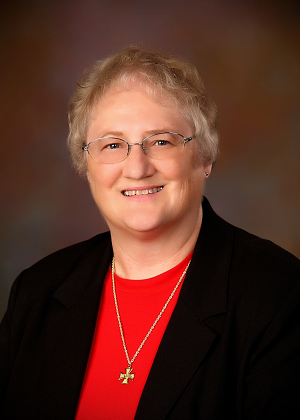 Sister Mary Kay Panowicz OSB, Procurator, 605-668-6003
S. Mary Kay Panowicz, a native of St. Paul, NE, joined the Yankton Benedictines in 1966. She earned a BA degree in Art from Mount Marty College, a MSS from the University of South Dakota and a Doctor of Ministry degree from the Graduate Theological Foundation in Indiana. She has ministered in public relations, art education and studio work, health governance and in liturgical space consultation. She has served as procurator since 2011.
"The cellarer (procurator) will regard all utensils and goods of the monastery as sacred vessels of the altar, aware that nothing is to be neglected. If goods are not available to meet a request, the cellarer will offer a kind word in reply, for it is written: A kind word is better than the best gift. (Sir 18:17). Rule of Benedict, Chapter 31
SHM Volunteer Program | Join us in ministry!
Come and explore our incredible setting as a Resident Volunteer!
Vocations — Join us!
Find out what it takes to be ONE HEART in loving Jesus, your Sisters, and the world.
Community Through Living Groups
For Benedictines, "community" isn't just our organizational structure. It's something we live every day, guided by the ancient wisdom of the Rule of St. Benedict. Every day we show our love for Christ by our efforts to:
love one another
build trustful and loving relationships with God, with one another, with planet earth, and with our deepest selves;
practice collaboration and cooperation;
learn the daily arts of forgiveness and peacemaking.
Each sister also belongs to a living group of 4–12 people with whom she shares time and living area. There are 10 living room/kitchenette spaces throughout the monastery, with names like Subiaco (Benedict's first monastery), Jericho, or Emmaus. Sisters gather for noonday prayer in their living room and also hear how everyone's day is going. After supper the Sisters visit, watch TV or play games with their group.
Each Living Group is Listed Below
Click on the toggle for each living groups: photo, favorite verses and activities they share together!