Year of Consecrated Life ~ Sister Laeticia
Greetings,
As we continue in this Year of Consecrated Life, we will be hearing from our sisters.  They've been invited to share about our Benedictine life.  Sister Laeticia reminded us of the importance of Faith, family, and education in her Benedictine Call to Consecrated Life…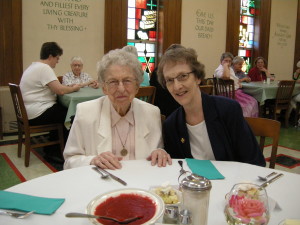 At 95, I recently celebrated my 75th Jubilee this year. I must say that these have been wonderful years of Benedictine life. My family was introduced to Benedictine men and women at an early age, and they were clearly a positive influence, as a brother and my sister, Sr. Philomene, and I all entered Benedictine communities. Catholic faith and practice, family, and education were important values in my family, and all of those things helped draw me to Benedictine life.

I am so very grateful for so many wonderful opportunities and experiences in my 75 years of monastic life. The support of close community ties, shared prayer and life and fun times together, an excellent education, and the opportunity to serve many students as a teacher for decades all made mine a very good life. There were some hard things in my monastic life too, but everyone has hard things, and none of them killed me; I learned and grew through all of them. Now that I am not able to do many of the things I once did, everyone is still very kind to me. I have kind and loving care from the sisters and the people who work in our care center, and I am so grateful for it all and for everyone in my life.
Blessings to you,
Return to "One Heart and One Soul"